Doris Juanita Bunselmeyer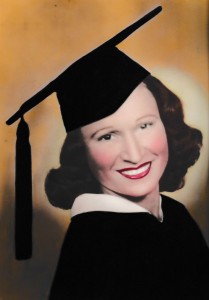 Doris Juanita Bunselmeyer, 87, graduated with the utmost honors to her heavenly resting place, on Oct. 6, 2015 in Mont Belvieu, Texas. She was born on Sept. 21, 1928 in Vernon, Texas to William and Clara Kilgore. Doris was preceded in death by two brothers, two sisters, one of which was her twin, her daughter, La Toss Carpenter and two grandsons, Skipper and Bubba Jones. She is survived by her son, Larry Jones and his wife Sharon, and her son Lynn Jones; 6 grandchildren, Larry and his wife Norma , Paul and his wife Veronica, Cherryl and her husband Corey, Brandon and his wife Alicia, Kimberly, and Rebecca; 23 great grandchildren; 14 great-great grandchildren and numerous family members and friends. She earned a Bachelor's degree in education (Physical Education) from Pan American University. She also earned a Master's degree, in Education (History), Steven F. Austin University. Doris worked as a teacher for 27 years in White House, Texas. She had a passion for Bridge and was a Master Player.
On Saturday, October 10, 2015 a Visitation will be held from 9:00 AM to 10:00 AM followed by a Funeral Service at 10:00 AM at MercyGate Church, 9627 Eagle Drive, Mont Belvieu, TX 77523.  Interment will take place at Cathedral in the Pines Cemetery, Tyler, Texas at a later date.