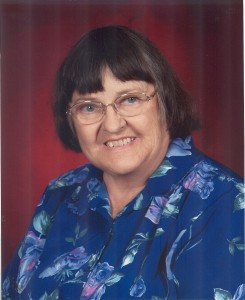 Doris Brevik Johnson passed away in League City on September 29, 2015.  She was born on April 29, 1929 in Hudson, South Dakota. She was the eldest daughter of Charlotte And Oluf Brevik.  Her family moved to Silver Creek, MN when she was 14 years old.  After high school she moved to Minneapolis, MN and worked for an artificial limb company.  While in Minneapolis, she met the love of her life, Dwight Edward Johnson and they married August 19th, 1949. With Dwight, Doris enjoyed traveling and living in New York,  Pennsylvania, California, Florida and they eventually made their home in El Lago, Texas in 1969.  Doris's various jobs included selling Fuller Brush and working for Northrup while raising three children.
Always proud of her Norwegian heritage and of a "farmer's daughter frugality", Doris enjoyed all kinds of needlework, quilting, crocheting and sewing for her family and friends. She also participated in College of the Mainland Senior Water Exercise Program, Dig and Design Garden Club, Nutcracker Craft Group and various Bridge groups. Doris always found the time to support her children's many extra curricular activities, from being a Den Mother, rolling newspapers at dawn and managing the Aquanauts Synchronized Swim Team.  Doris cherished all of her moments with her grandchildren and most especially enjoyed the cruise that they all took together. Doris also valued her many visits back to MN, where she could catch up on the lives of her siblings and her numerous nieces and nephews.  One of her regrets was that she did not have an opportunity to travel to MN one more time.  Doris enjoyed an active membership at Gloria Dei Lutheran Church and valued the friendships she made there.
Doris was preceded in death by her husband Dwight and brothers Cliff and Bob. She is survived by her children, Gary (Diane and stepson John), Larry (Marianne) and Janice (Dennis and children Dennis, Katie, Matthew and Michael). Doris also survived by her brothers, Harvey and Lou and sisters, Charlotte and Lois, as well as many cousins and countless extended family and friends.
The family would like to thank Mother's caregivers at Regal Estates and The Cottages of Clear Lake and most especially her helper and friend Cynthia Allen.
Funeral Service 11:30am, Monday, October 5, 2015 at Gloria Dei Lutheran Church, 18220 Upper Bay Road, Nassau Bay, 77058.  Interment 10:45am, Tuesday, October 6, 2015, Houston National Cemetery, 10410 Veterans Memorial Dr., Houston, 77038.