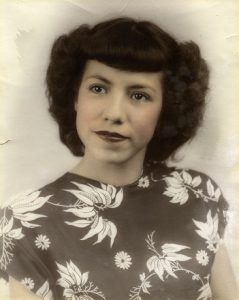 Dora A Samaniego, 94, of Galveston County passed away on April 22, 2022. Dora was born December 31, 1927, in New Braunfels, Texas to loving parents WensesLos and Benita Morales. Dora was a beloved wife, mother, grandmother, sister and friend to so many. Dora is said to have never met a stranger and loved to cook.  Dora served her community well through her time at Shrine of the True Cross Catholic Church and as a nurse at Mainland Hospital for over 30 years.
Dora is preceded in death by her beloved husband: Conrad A Samaniego; parents and siblings.
Left to cherish her well lived life are her children: Freida Morris and Richard Samaniego; grandson: Todd Vetter and numerous other family members and friends.
There will be a visitation held at Crowder Funeral Home in Dickinson Texas April 27, 2022, from 4:00pm to 7:00pm. There will be a funeral service held following at 7:00pm. In lieu of flowers the family asks that donations be made to Dora's favorite charity St. Jude's or the charity of their choice.