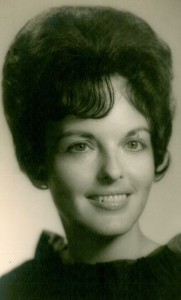 Donna Sue Walker, 78, 11 year resident of Pearland, TX passed away in her home on December 24, 2014. Donna was born at home in Kansas City, Kansas on September 21, 1936 to Charles and Maude Renshaw.
She enjoyed traveling, had a passion for elephants, and she enjoyed volunteering at South East Memorial Hospital for seven years. Donna loved trees and the sound the wind made blowing thru the leaves.
Mrs. Walker is preceded in death by her parents; sister, Margaret Renshaw Bingman; grandchild, Jason Wayne Lucas; and her dear friend, Frank Olivares Jr.
Donna leaves behind her daughters: Nancy Walker Ferverda and husband Joe, Lydia Walker Franks and husband Mike and Cindy Walker Dillion and husband Steve; grandchildren: Amanda Lucas Sammons and husband Jason, Joseph Walen Franks and wife Tiffany, Jeremy Edward Franks and wife Anna, Ashley Franks Stegherr and husband Ian, Courtney Jackson Nemec and husband Sean and Kristen Lee Dillon; great grandchildren: Naoki, Mika and Makayla Lucas, Logan and Luke Sammons, Riley, Hayden, Macy and Karlie Franks,Micah, Melea and Zach, Annabelle Stegherr, and Kendall Nemec. Also, there will be 3 new babies that will be born in 2015.
A funeral service will be at 2:00 pm on December 26, 2014 at Crowder Funeral Home in Pearland.