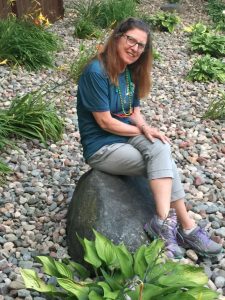 Donna Kaye Stoa, long-time resident of Nassau Bay, passed away on Friday, March 10th, 2023, due to complications from Alzheimer's disease.  Donna was born on December 23, 1946, in Pasadena, TX, to Donald and Estelle Fisher.  She graduated from Lamar High School in Houston, then earned a bachelor's degree from the University of Houston and a master's degree from the University of Houston – Clear Lake.  In the early 1970s, she and her then-husband, Bill Neumann, moved to Texas City, where she gave birth to her son Jacob in 1972 and Brian in 1975.  Divorced in 1981, she and her boys moved to Nassau Bay in 1983.  She married Jim Stoa in 1986, having met at a Clear Lake Chamber of Commerce mixer.  They remained steadfast members of the community over the next 36+ years.
Donna was a lifelong educator and business-owner.  Early in her career, she taught reading and special education for Texas City ISD, as well as provided private reading consultations for students in Clear Lake.  Donna's education background served her well when she opened her small business in Webster in the mid-1980s, Circle Pawn Shop #12, as she trained her staff, including her two sons, in finance, retail, and customer relations.  She ran this successful business for 25 years.  Later, Donna extended her education work through her church's financial ministry, helping those in need learn financial management skills.
Donna loved her community.  She volunteered at her sons' schools.  Both she and Jim were constant attendees at events at Clear Creek High School, where both of her sons played in the band.  She and Jim served as foster parents for area children in need.  And Donna volunteered with programs and projects such as Helping a Hero, Hurricane Katrina relief programs, Nassau Bay Garden Club, Keep Nassau Bay Beautiful, and the Lutheran Church Charities comfort dog program.
She was a spiritual person.  After years searching churches, she finally found a spiritual home when she and Jim joined Gloria Dei Lutheran Church in the early 2000s.  After selling her business, Donna embraced her life-long love of music by joining the church choir, in which she sang until 2021.  And she loved a good Bible study.  The right verse could fill her with emotion, lighting up her eyes and maybe even bringing a tear.
Donna was also fun-loving and adventurous.  An avid sports fan, she cheered on her Houston Cougars and the Astros, remaining true to the city that was her home.  She loved traveling, whether by train through Europe or car-camping through the backroads of America.  She loved azaleas, on the Houston azalea trail or in her much loved and tended front yard.
A loving and devoted wife, mother, sister, daughter, grandmother, and friend, she was a force to be reckoned with and will be deeply missed by all who knew and loved her.  She is survived by her husband Jim, her parents Don and Estelle, her sister Melanie, her sons Jacob and Brian, and her granddaughters Brianne, Elinor, and Emily.  Services will be held at Gloria Dei Lutheran Church (18220 Upper Bay Road, Nassau Bay, TX 77058) on March 30th at 10:30am with visitation beginning at 9:30 and a reception to follow [streaming will be available: https://gdlc.online.church/].  In lieu of flowers, the family requests donations be made in Donna's name to your local chapter of the Alzheimer's Association (www.alz.org).