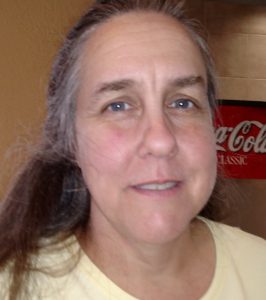 Donna Gayle Holcomb left this world all too soon on Sunday, January 22, 2023, at the age of 58.  First and foremost, Donna loved Jesus Christ. Those loved ones left behind are left with a hole in their hearts that cannot be filled, but know that she is now at peace with Jesus. Jesus now has one of the special ones with Donna.
Donna was born Donna Gayle Young on July 10, 1964, in Texas City, TX., the 2nd of 3 children born to Donald and Doris Young of Kemah, TX. Donna was a Special child and She was her mother's "sweet baby". Donna was wife to Curtis Holcomb for 36 years and loving mother to her son Matthew Holcomb, who was born on April 8, 2004. Donna was sister to Tim and Mark Young. She dearly loved and lived her life for her family. Her husband and son were the center of her world.
Donna was a genius. As a small child, she took phones, radios and other devices apart and put them back together, and they still worked. Donna became  a virtual expert about any subject upon which she focused after only a few minutes of research.
Donna excelled in school. She graduated with the highest grade point average in her high school class from then Bay Area Christian School.
Donna loved working with her husband in the communication and construction industries for several years. Reluctantly, she found her real calling in the legal field as a paralegal and legal advocate until her passing. She helped her family and others with their legal battles. Donna was called brilliant by her colleagues and dreaded by those who chose to be her adversaries.
Donna was one of a kind. She always helped others and would not accept payment or anything in return for her help. Donna always put the needs of others before herself. She worked to right wrongs done to others, forsaking her own needs. She recently suffered painful tooth loss but took care of a family member's teeth instead, that was who she was.
Donna is preceded in death by her father, Donald L. Young. She is survived by her husband Curtis, son Matthew, her Mother Doris Young, brother Tim Young, brother Mark Young, her stepson Jeffrey Holcomb and stepdaughter Candy Pskowski.
A Chapel Service will be held on Tuesday, January 31, 2023 at 2:00pm with Pastor Joel Trevino officiating. Interment will follow the ceremony at Forest Park East Cemetery in Webster, Texas.