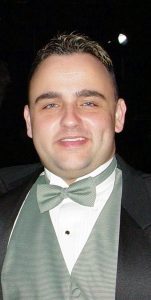 It is with great sorrow that the Trahan Family must announce the death of Donald Trahan, Jr. He passed peacefully and suddenly at home with his family on Wednesday, June 6, 2018.
Don will be remembered for his sense of humor, his open and giving heart, his vast intelligence, and his terrible karaoke. He impacted the lives of so many while living a full and adventurous life. He lived like he meant it, and packed his life with travels and new experiences the likes of which most of us will never have the chance to experience.
A celebration of his life will be held for Don on Wednesday, June 13, 2018, at 7:00 pm at Crowder Funeral Home located at 851 Farm to Market 517 Rd W, in Dickinson, TX 77539. There will not be a viewing or funeral, at Don's request.
If you feel you would like to do something in memory of Don, this is his favorite charity. You may send donations in his name to Covenant House of Houston, their contact information is below:
Covenant House
1111 Lovett Blvd, Houston, TX 77006
Phone: (713) 523-2231
Kate Ryther
Director of Development
713-630-5636