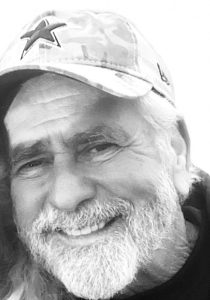 Donald Lynn Wood, age 67, beloved husband, father, and fisherman passed away at his home on April 14, 2023. Don was born in Overton, TX on February 29, 1956. His true passion in life was fishing which he began at a very young age and passed down to those he loved most and many others. He was a member of SETSFA – South East Texas Sports Fishing Association, winning many awards and participating in tournaments, including his favorites Hall of Fame and Tackle Time. He also participated in the Turning Point Drum Tournament where he had the privilege of taking those that were physically challenged out on the water to catch the "big one". His other hobbies included duck hunting in his blind on Halls Bayou and deer hunting any chance he got. Don was known around Galveston County for the many fences he built. His family will miss his delicious cooking, especially seafood specialties and slow cooked hamburgers, and all those incredible stories. He had a talent for making everyone around him laugh and feel right at home wherever you were with him.
Don retired from Valero Refinery in Texas City after 42 years. He moved to a beautiful spot with his wife, Pam, in Blue, TX where they enjoyed working the land along with feeding and watching the beautiful wildlife together.
He is preceded in death by his mother Bonnie Crisp and stepfather Monroe Crisp, stepmother Billie Wood, grandmother Ruth Myers, grandfather Nig West, brother-in-law Bubba Ziegelmeyer and his cherished dogs Jake, Molly, and Cali.
He is survived by his wife of twenty years, Pam, father Delmar Wood, daughter Misti Wood, son-in-law Wade Bullard, daughter Natalie Wood (partner T-Ray Ellis), son Donnie Wood, stepson Jeff Roberson (Lynn), grandchildren Paige Bullard, Taylor Bullard, Jacob Roberson, brother Joe Wood (partner Mark Novack), sister Connie Ziegelmeyer (special friend Donna Keimig), sister-in-law Brenda Wood, brother-in-law Michael Chapman (Lou), his cherished hunting dogs Jake and Abby, as well as, numerous cousins, nieces, nephews, grandnieces, and grandnephews.
A special thanks to his niece, Krystal Chapman Herbeck, for her care and comfort she gave him.
Also, thanks to Gentiva Hospice Care for their compassion and support.
A Celebration of Life, a gathering of family and friends, will be held May 13, 2023, 3-5pm, at James Crowder Funeral Home in Dickinson, TX.
Thank you for your thoughts, prayers, and kind words as we celebrate Don Wood's beautiful legacy.