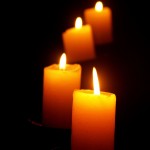 Donald E. Gaul, 64, of League City, Texas passed away January 1, 2016. Donald was born October 10, 1951 in Eaton Rapids, Michigan, to Joseph H. Gaul and Patricia A. (Schuitema) Gaul. Don graduated with honors from high school in Fenton, Michigan in 1969. He was a proud graduate of Michigan State University obtaining a Bachelor of Science degree in 1973. After teaching for one year, Don entered Ferris State College. He obtained at Data Processing Degree in 1976. His educational skills were used by such corporations Steelcase, Walmart, and Oracle. He finally found his niche at Boeing/NASA, in Houston, Texas. He worked as a Ground System/Space Station Support Team Member until his retirement.
Mr. Gaul is survived by his loving friend Deborah Gilbreath of Texas, his sister Anne (John) Matthews of Florida, two nephews Chad (Melanie) McMillan and their 3 daughters of Ohio and his "Sports Buddy" Christopher (Kelly Beach) McMillan of North Carolina.
Mr. Gaul's wishes were to be cremated. A private service will be held at a later date.