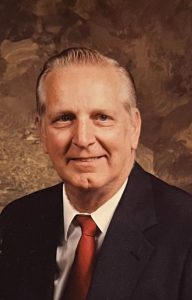 Donald "Don" Halter, 90 years old, passed away peacefully on February 16th, 2023 in Webster, Texas under the care of a hospice nurse. He was born the eldest of six children on August 27th, 1932 in Akron, OH to Anthony and Madeline Halter. Donald Halter is survived by: his wife of 59 years Anne Blanton Halter; daughter, Susan Halter O'Keeffe; son, Donald A Halter, sisters, Patricia Hughes and Josephine Boda; grandchildren, Connor O'Keeffe, AbbyJane O'Keeffe, Aidan Halter, Evan Halter, and Brendan Halter; and numerous extended family members, friends, and fellow JSCAS family.
When his nation called he answered by joining the United States Navy, where he studied and excelled as a navigator on a TBF Avenger Airplane as well as a radar specialist in the Navy. After an honorable discharge, he went to work at Cape Canaveral in Cocoa Beach, FLA for the RCA Service Co, where he also met Anne Blanton. Don and Anne were married in 1963. Shortly thereafter, Don moved to Clear Lake City, TX where he worked on the NASA facility for over twenty six years in manned space flight ground control operations from the early Apollo space flights up until the space shuttle flights for various NASA contractor companies. Don was an active part of his two children's lives growing up in Clear Lake City. In his retirement, Donald had a great passion for studying astronomy and making telescopes. He was an active member of the Johnson Space Center Astronomical Society (JSCAS) where he enjoyed many adventures at star parties and exploring telescope making, telescope optics and astronomical photography.
Don was also passionate about being the world's best Dad and Grandpa. Don supported his own kids in their extra-curricular activities as they grew up, and went on to support all his grandkids in their endeavors from sidelines of soccer fields, to the countless orchestra concerts, and Irish Dance performances.
A public viewing and Memorial Service will be held on Thursday, February 23rd beginning with the viewing at 10:00am, followed by a service at 11:00am at Crowder Funeral Home, 111 E. Medical Center Blvd, Webster, TX 77598. Don will be laid to rest at Forest Park East in the Veteran's Garden of Valor.  In lieu of flowers those wishing to make a memorial donation in Don Halter's memory may do so by donating to the Friends of Fort McKavett, the generous hosts of many Texas Star Parties, via the Texas Historical Commission at www.thcthefriends.org/support. Don was loved and admired by many and a special thank you goes out to those who visited and sent messages of love to him in his final days.