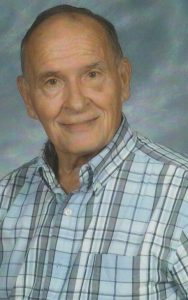 Don Hamilton Peterson, a native of Chicago, IL, passed away on April 23, 2019, at the age of 84. The youngest of four boys born to Joel Peterson and Vivian Hamilton Peterson, he spent his formative years in Summit, NJ. Always athletic and loving sports, he played football and ran track in high school. After attending Bucknell University, he continued his education at Upsala College, where he lettered in track and field and earned his Bachelor of Science. Two years later he was awarded a Master of Science from Texas A & M, and was a proud Texas Aggie ever since. After serving in the U.S. Army, he began his career as a geophysicist, working for Texaco, Inc. in Farmington, NM. Subsequently he transferred to Midland, TX, and then moved to Houston in 1963, where he resided for the rest of his life. His work often took him to well sites, and he enjoyed the opportunity to travel to Niger and Indonesia. His later employment included assignments with Conoco, Inc., and American Petrofina, eventually becoming a consultant for various firms.
Don was married and the father of three children. He is survived by his daughter and son-in-law, Diana and Victor Chelf; his son and daughter-in-law, Wayne Peterson and Sandra Lopez; his daughter and son-in-law, Kristi and Kurt Hopfe; and his former wife, Gale Peterson. He was called "Pop" by his three grandchildren, Matthew Chelf, Elyse Hopfe, and Amanda Hopfe. Preceded in death by his parents and eldest brother Charles, he is survived by brother and sister-in-law Thomas and Dallas Peterson, brother Burt Peterson, and numerous nieces, nephews, and extended family.
Throughout his life, Don was an avid sports fan who enjoyed rooting for his hometown Astros, Rockets, and Texans, as well as his beloved Texas Aggies. He loved camping and visiting America's National Parks and beaches. He had a love for dogs and always had a furry family member. He took great pride in his children, family, and country. Don was helpful by nature, jumping in to assist with his children's sports or youth groups, and, as would happen on his busy Houston street, directing traffic around floods or fender benders. Upon meeting Don, people found him to have an easy and playful way about him. Though he was mostly non-verbal after a stroke for the last year of life, his personality shone through to those he encountered; he received hugs and high-fives all around the care center where he last resided.
Don was happy to call many people friends, especially long-time friend Bob Saenger, dear neighbors, his coffee buddies, previous co-workers, and members of St. Martin's Lutheran Church where he attended for many years. When able, he was happy to connect via email with friends he met along his life's journey, including his life-long friend Kenneth Giles. (Before the internet, he was known to fax jokes to friends for a laugh.) We hope Don will be remembered with a smile.
The family will receive guests at Crowder Funeral home (111 E. Medical Center Blvd., Webster, Texas) from 6-7 p.m. on Thursday, May 2, 2019, with a memorial service beginning at 7 p.m. In lieu of flowers those wishing to make a donation in Don Peterson's memory are encouraged to do so to The American Heart Association or to a local, no-kill animal shelter.