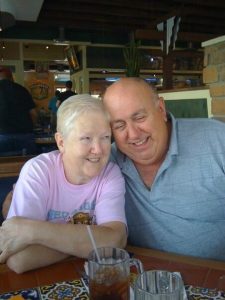 Diana Lynn Brower, 21 year resident of Pearland, TX passed away April 9, 2019 after a long battle with her health. Diana was born May 11, 1946 in Paris, IL to Charles and Ada Warner. In late 1969 she met the love of her life, husband Richard. They married 4-15-1972. They were blessed with four children who absolutely adore them! Together they worked hard to teach Christianity, integrity and to always work hard so that their family could play hard too. Life was to be enjoyed! Diana loved their animals-Sadie, Oreo, Cameo and Ms Kitty. She enjoyed arts and crafts and could never color her beautiful pages enough. She had coloring parties with friends Deborah, Cecile and Alexandria every weekend.
Diane is preceded in death by her parents and truly beloved brother, William Warner. We know that God has reunited them in His joyous kingdom!
Diana leaves behind to cherish her memories her husband of 47 years, Richard Eugene Brower; daughters: Deana Brower Cull, husband Kevin, Jessica Brower Clifft, husband Michael and Bobbi Brower Purvis, husband Robert; son, Johnnie W. Brower; grandchildren: Justin Allen Brower, Amber Nicole Brower, Kristina Leann Beatty, husband Kyle, Christopher Anthony Cull, fiancé  Jessica , Matthew Ryan Purvis and Hannah Rilynn Brower- Clifft; great grandchildren: Kenneth, Elizabeth, Aizen, Aldrick and Klyde; sister, Betty Carolyn Murray, husband Carl.
Something everyone should know about our mother is her ability to care for others. That is what drew her to a career in the medical field. She never let a friend or patient need anything. We always told her she cooked enough for the neighborhood, and it was amazing how many plates she delivered. She was the best mother and example we could have asked for. God did great when He made our mother! Not only beautiful outside but in as well. To our father she will always be his queen and the love of his life as well. Our family will miss her terribly but will see her again when we are called Home. We find solace in her peace with no more pain.
In lieu of flowers or gifts, our mother would love to be honored by your contributions in her name to the ASPCA. A stray never stayed a stray long… Please make memorial contributions to: ASPCA, 1-800-628-0028 aspca.org