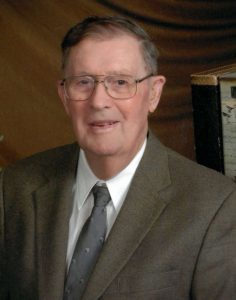 Dial Ferguson Black passed away with family by his side on September 11, 2020 at the age of 97 in the La Marque home he built in 1949. Dial was born to Andy and Minnie Black in Robertson County, Texas. He attended a one room schoolhouse in the Bald Prairie community. He later received his GED as he prepared to attend the training to become a pipefitter. He retired in 1985 from Union Carbide Corporation after 35 years of service.
After being rejected two times due to a vision problem, Dial was called up to serve his country in the Army Air Corp during World War II. He spent his entire tour of duty at the Air Base in Biloxi, Mississippi as a head cook.
Dial was preceded in death by his wife of 65 years Edna Louise Black, his brothers Elmer, Otis and Grady, his sisters Daphna, Ida, Carmen Sanders, Johnnie Rea Foster, and his granddaughter Kristy Franklin.
Dial will be missed by his son Jim and Glenda Black, daughter Margie and Tim Franklin, his grandchildren Tim and Janet Black, Richard Black, Rob and Amy Franklin, his great grandchildren Jonathan and Amber Black, Malinda Franklin, and Sam Franklin, great-great grandchildren Kruz, Emlyn and Emrys, and many other relatives along with his friends on Honeysuckle, those at First United Methodist Church, his domino partners, and his workout companions at the Texas City Lowry Center.
Dial was a compassionate man who cared for people regardless of race or background. Everyone who knew him describes him as one of the nicest people they have known. One of the saying his family heard many times over the years was, "If you can't say something good about someone, don't say anything at all." He was active in his church for over seventy years, volunteering to help whenever anything was needed. For many years he actively supported every activity his children were involved in from athletics to scouting. He also loved to spend time in his shop taking broken things and making them useful, building projects, and whenever possible spending time with his grandsons and great-grandson teaching them the right way to use tools. In their later years Edna moved into Ashton Parke due to her medical needs, Dial simply made that a part of his life also by volunteering to help out with many of the activities they held. Family meant everything to Dial and he spent his life with them always as his primary focus.
Visitation will be Friday, September 18, 2020, from 4 P.M.  to 7 P.M. at Crowder Funeral Home in La Marque. Service will be held on Saturday, September 19, 2020 at 10 A.M. at the First United Methodist Church in La Marque, Rev. Ingrid Clark and Rev. Tim Franklin officiating, under the direction of the Crowder Funeral Home, La Marque.
Pall bearers will be: Tim Black, Richard Black, Jonathan Black, Sam Franklin, Ethan Romero, Jay Bonhomme. Honorary Rob Franklin.
In lieu of flowers, the family has asked that donations be made in his memory to First United Methodist Church La Marque, Texas, the church he loved.