Dewey Robert "Bob" Brogdon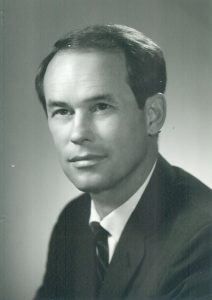 Dewey Robert "Bob" Brogdon passed away on December 9, 2016, in Clear Lake, Texas at the age of 85.  He was born to Onie Dewey Brogdon and Marcella Scales Brogdon in Gorman, Texas, on August 25, 1931.  He is survived by his devoted wife of 54 years, Melody Brown Brogdon, devoted son Robert Calvin "Cal" Brogdon of Clear Lake, Texas, loving daughter Diane Brogdon Corley and her husband Chris Corley of Austin, Texas, three granddaughters whom he adored, Grace Corley, Sarah Corley, and Katherine Corley Leach and her husband David Leach, and numerous nieces and nephews.  Bob was preceded in death by his parents, brother Dr. Bill Brogdon of Weatherford,Texas, and sister Harriet "Little Lady" Brogdon of Gorman, Texas.  Bob spent his childhood in Gorman, Texas, and attended the University of Texas at Austin where he received a BS degree in geology in 1953 and a MA degree in geology in 1954.  He began his 40 year career in domestic oil exploration with Marathon Oil Company in Tyler, Texas, and later moved to Shreveport, Louisiana, and Tulsa, Oklahoma.  It was in Shreveport where he met and married his lovely wife Melody in 1962.  A certified petroleum geologist, he continued his career with Marathon in Houston, Texas where he most enjoyed the recruiting and mentoring of new geoscientists.  He served on committees of the American Association of Petroleum Geologists at both the local and national levels. Bob was a devoted husband, father, and grandfather, and an avid sailing and sailboat enthusiast.  He enjoyed reading, music, and growing orchids.
Funeral services celebrating Bob's life will be held Saturday, December 17 at Bay Area Presbyterian Church, 670 E. Medical Center Blvd, Webster, Texas.
www.bapc.org
Visitation will be held from 10:00 – 11:00 am, followed by a memorial service from 11:00 am until noon.
In lieu of flowers, donations may be made to the American Heart Association.