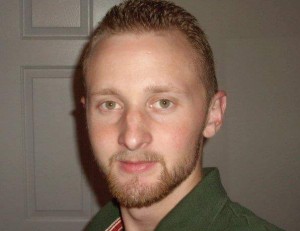 Derek Ronald Locke, age 27, of Seabrook, TX went to be with his Lord and Savior, Jesus Christ, on February 1, 2015.
Derek was born August 3, 1987 in Clear Lake, TX.
Derek was employed by National Terrazzo Tile and Marble in Houston, TX for many years. He was proud of the work he did, and he admired those he worked with and for. He would often tell family about the jobs he was working on, and he had a sense of pride in doing his job well and the beauty of the finished projects.
Derek was a devout Christian and member of Sagemont Church. He loved to talk about the Lord with anyone willing to listen. He was an avid student of the Bible and loved to read, write and share his thoughts about the Lord.
He also had a deep love for his country. He had great respect and admiration for our military service members and excelled in ROTC while attending Clear Creek High School. His passion for politics was evident, and he enjoyed having lively political debates.
Derek was also known for his love of music and its poetic elements. He enjoyed music in almost every genre, especially gospel. He often had a quote from a song to share and truly loved worshipping the Lord through song.
Derek is survived by his father, Ronald Locke and wife, Joann; mother, Carole Gardiner and husband, Floyd; paternal grandmother, Louise Locke McShan and maternal grandparents Carl and Mary Spencer. He is also survived by sister, Katherine and husband, Gregg Lamon; sister, Paige Guzman; brother, Floyd Gardiner III; sister, Crystal Sevilla; sister, Nikki Sevilla; brother, Ivan Sevilla and wife, Desiry; and sisters, Samantha and Lynzi Bennett. Derek was also the proud uncle to Madelynn, Isabella and Abigail Lamon and Ivan, Anthony and Adam Sevilla. Derek is also survived by his uncle, Jimmy Fisher and wife, Rennie; uncle, Michael Locke and wife, Michele; aunt, Shirley Spencer; aunt, Maggie Molina and husband, Tracy; aunt, Tricia Locke Fountain and husband, Todd. In addition, Derek was blessed with a host of great aunts, uncles and cousins.
Derek was preceded in death by his paternal grandfather, David Locke and step grandfather, James McShan.
Pall bearers will be Gregg Lamon, Jerry Humbird, Michael Locke, David Locke, Ivan Sevilla, and Zachary Fountain. Honorary pall bearer will be Floyd Gardiner III.
Visitation will be held on Thursday, February 5, 2015 at 1:00 p.m. at Crowder Funeral Home in Webster, TX. Funeral services will follow the visitation at 2:00 p.m. A private family burial will be held at Alta Loma Cemetery.
In lieu of flowers, the family asks that donations be made to Sagemont Church.