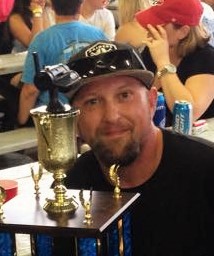 Derek Richard Hall, passed away at the age of 36, on October 22, 2016.  Derek was born March 5, 1980 in Galveston, TX and was a lifelong resident of Santa Fe, TX.
He served in the U.S. Navy, was a self-employed Fabricator and Glass Blower, an award-winning Cook (Pit Master), member of the UpAllNighters BBQ Cook-off team, owner and writer for the Oakland Raiders Daily News Facebook page, member of the AFCWest Bloggers Facebook page, published writer in an article written by Bill Williamson: "FLASH POINTS: Franchise-turning events" (blogger name Micraider), and an advocate for NORMAL. Derek put his heart and soul into his family and friends. He had a passion for food, specialty beers, fishing, playing the guitar and was a die-hard Oakland Raiders fan.
Derek was a devoted, loving and irreplaceable husband and father. He was a friend that you called your "Brother".  Derek is known for his passionate love of life, his vibrant personality, his ability to make the darkest room shine as bright as the North Star. His smile and laughter was contagious; for every second you knew him; you knew he loved you; a stranger to no one. His heart and soul was too big for this world and although he has left us in body, he will forever remain in our hearts.
Derek is preceded in death by his grandmother, Patsy Hayes; grandmother, Margie Hall and grandfather, Cyril Hall.
He leaves behind to cherish his memories and carry on his legacy, his wife of 11 years, Ryan Nicol Hall; daughter, Hannah Jane Hall; sons: Blaine Jason Hall and Cameron Michael Hall; father, Ricky Hall and mother Kathy Hall; sister, Tiffany Lee and husband, Nathan; nieces: Calysta Lee and Sydney Lee; father and mother in law, Mike and Diana Matakas and John Raney; his colorful band of brothers; and the children that knew him as their uncle.
There will be a memorial gathering held on Tuesday, November 1, 2016 from 4:20pm – 8:40pm at the Crowder Fish Camp, 8911 Paula LN Dickinson, TX 77539 . In lieu of flowers, donations will be accepted at the following GoFundMe account: https://www.gofundme.com/derek-sneaky-hall-memorial-fund-2w6v3pk2
The family is overwhelmed by the love and support everyone has shown them and cannot thank everyone enough.