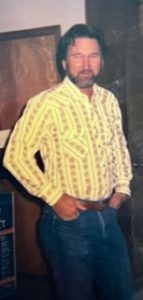 Denson Hertenberger, 80, a longtime resident of Santa Fe, Texas , passed from this life, August 3, 2023 surrounded by his loving family.  He was born in Del Rio, Texas to parents, Raymond Hertenberger and Esther Hertenberger Powers, on November 18, 1942.
Denson was preceded in death by his parents; brother, Wilson Hertenberger, and sisters, Ona McEachern and Carole Myers.
He is survived by his loving wife, Shirley Hertenberger; daughter Kelly Patterson; granddaughter, Payton Patterson; son Clay Hertenberger and wife Melanie; grandsons, Cole, Bryce, and Lane Hertenberger; sisters, Peggy Allen and Susan Cordell; along with numerous nieces and nephews.
Per Denson's request there will be no services at this time.  In lieu of flowers, a donation can be sent to St. Judes' Children's Hospital or Shriners Children's Hospital.