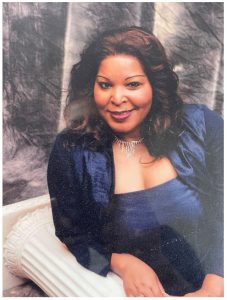 Denise Stewart Pimienta passed away on July 28, 2023, in Houston, Texas. She was born on February 8, 1958, in Markham, Illinois, to James Lewis Stewart and Tommie Carolyn Dixon.
Denise accepted Christ at an early age at Christ Baptist Church in Markham, Illinois. In 1995, she met Angel Ray Pimienta in Orland Park, Illinois. They were married on March 20th, 1997, while residing in Aurora, Illinois.
Denise earned an Associate of Arts degree from Thornton Community College, South Holland, Illinois. She found employment as a Supervisor for Publishers Circulation Fulfillment Inc. (The New York Times), in Orland Park, Illinois; was later employed as a Purchasing Agent for Illinois Credit Union System, in Naperville, Illinois; and finally worked for the Russell Country Federal Credit Union in Great Falls, Montana, before retiring. In 2014, Denise and her husband moved to the Houston suburb of Seabrook, Texas, and on to Beaumont, Texas, in 2021.
An outgoing person who fully enjoyed life, Denise loved travelling and was passionate about her grandchildren, her great-granddaughter, and, of course, her dog Cocoa. Denise loved to shop, get her hair and nails done, and enjoy meals out and good conversations with friends.
Denise is survived by her husband, Angel Ray Pimienta; daughter, LaMonica Shamise Bunch; (2) sisters, Geneva Love and Juanita Stewart; (5) brothers, Albert Stewart (Jean Stubs), James Stewart, Jerome Stewart (Tanya Pete), Thomas Stewart (Shell Stubs), and Wade Stewart; (3) grandchildren, Tierra Shante Douglas, Takara Alexandria Hughes, and T'mar Madelyn Kimberly Bunch; (1) great grandchild, Olivia Raelynn Kirk and numerous family members and dear friends.
Preceded in death by both parents; a brother, Thurman F. Stewart; and a great-grandson, Kingston Romel King. Plans are for a memorial service, date to be determined. In lieu of flowers those wishing to make a memorial donation in Denise's memory may do so to the Pimienta Family, 4334 Willow Bend Court, Beaumont, TX 77707.