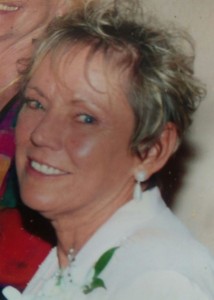 Denise (Dink) Jordan of Bayou Vista went to be with her Lord and Savior on March 5, 2016. She passed peacefully surrounded by her family at Bayou Pines Care Center in La Marque, Texas where she had been a resident for three years.
Denise was born March 26, 1952 in Florence, South Carolina to Lilly and Bill Powell. As a resident of Bayou Vista for 14 years she cherished her lifestyle on the bayou and enjoyed many family gatherings. God and Family were her focus in life. She was a faithful member of Faith Community Church and delighted in taking her grandchildren to Church and Sunday school. She was baptized, Bayou Vista style in the Bayou Vista community pool.  Her grandchildren were her heart and she spoiled them in every way.
She is survived by her best friend and companion Mike Holley (Bayou Vista), daughter Amy Bartos  (San Antonio) and her children Daisia, Mari Bella, and Preston, stepdaughter Mandy Valdez (Texas City) and her children London and Paris, great grandchildren Goku and Gohan Taylor, sister Delores Driver, brother D.R. Dennis, niece and grandniece Teresa Clegg and Tiffany Driver.
Per her wishes she will be laid to rest in North Carolina next to her daughter Jennifer. The family will honor her wishes in a private service.
In lieu of flowers Denise would wish that donations be made to a charity of your choice.
The family would like to express gratitude for the loving care she received at Bayou Pines Care Center where she made many friends during her stay.  Many thanks to Hospice nurses Leaanne and Jeanie who made her comfortable in her last hours. Special Thanks to "Miss Betty" Macip her roommate who lovingly cared for her many needs.
Denise, we will always remember you as MeMaw. You were a pistol and a kindred soul all in one package. There is no doubt you will be watching from heaven and protecting us.  We know in our hearts that you are now at peace and safely home at last.