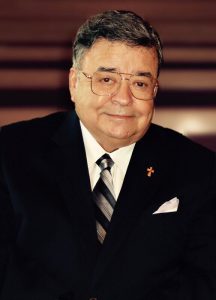 Deacon Joe Rubio of Dickinson, a long-time advocate for the poor and marginalized, passed peacefully into eternal rest on May 21, one day after his 78th birthday.  A devoted husband, loving father and grandfather, he built a public legacy of service through his work as journalist, civic leader, educator, social service director, and deacon, until his retirement as Co-Executive Director of Catholic Charities in 2013.
His lifelong commitment to social change was fostered from an early age.  Born and raised in El Paso, Jesus Jose Rubio, Jr., was the eldest child of Jesus Jose Rubio, Sr., and Maria Luisa Anaya whose families left Chihuahua and Guanajuato during the Mexican Revolution. From their sacrifices in a new country, he inherited a strong work ethic and an appreciation for education. His father labored long hours as a watch maker at the family business, La Violeta, a bustling pawnshop on downtown Alameda Street.  His mother was vigilant to ensure her son had teachers who would not penalize him for being a Mexican child in an Anglo school.
He felt deeply indebted to his first instructors at Lamar Elementary School who took extra time after school to teach him English which he mastered by fourth grade. His education continued at El Paso High School, serving as class president and graduating with high honors, then earning a Bachelor degree from Texas Western College within three years.
While working for the Catholic Youth Organization (CYO), throughout the El Paso Diocese, he met his future wife of 52 years, Darlene Anne Lawrence, from the nearby farming community of Ysleta.  They married after he returned from the Army with the U.S. Chemical Corps and with U.S. Special Forces, where he was posted in the Deep South to a unit sent to safeguard James Meredith's entry to the University of Mississippi.  The experience of brushing against Jim Crow segregation never left him and clarified his future political involvement.
As Managing Editor of the Southwest Catholic Register, the diocesan newspaper, his reporting exposed those who profited by their ownership of decrepit tenement housing in South El Paso, among the worst conditions in the country. He brought to light employment discrimination practices at nearby Ft. Bliss which sparked an invitation to testify before the US Civil Rights Commission on Equal Opportunity.
Their family growing, with two young sons, Joseph and Christopher, Joe and Anne moved to Austin, where they welcomed the addition of daughter Teresa.  Joe became director of the state's Vista Volunteer program, and soon thereafter, he began doctoral studies in Educational Administration at the University of Texas.  The children remember being lulled to sleep by the clacking of the Royal typewriter, while their father completed school assignments late into the evening.  Another move then took them to Galveston County where he became Associate Dean of Technical Vocational programs at College of the Mainland before pausing his career to complete the writing of his doctoral dissertation. This turned into a year-long process of research and writing, while Anne began her social work career focused on the needs of abused children.
Dr. Rubio shifted careers again, becoming the founding administrator of Galveston Hospice, then the second hospice established in the state.  Subsequent human service work led him to positions with the March of Dimes, championing improved local public measures for pre-natal and early childhood healthcare, later working in New York as Vice President of Chapter programs for the March of Dimes National office. He and Anne returned to Houston, and he led the Development Office of Neighborhoods Centers Inc., helping to rebuild Ripley House. He then joined Catholic Charities to become Vice President for Community Relations and Advocacy which opened an avenue to address, both locally and nationally, issues affecting healthcare, foster care, and immigration, among others.
He held a number of leadership positions, which included chairing the Austin-based Center for Public Policy Priorities and the Houston Mayor's Advisory Committee on Immigration and Refugees.  He served on the Social Policy Committee for Catholic Charities USA, the U.S. Advisory Committee on Infant Mortality, and the executive team of the Metropolitan Organization (TMO).
He was passionate in fostering collaboration, understanding the strength of many faiths and cultures joining together to work for justice.  It was often commented that he led from behind, helping to promote and mentor the development of future leadership. His heroes were people, prominent and ordinary, who acted courageously on their faith values in a challenging world.
Later in life, he answered a long-felt call to ordained ministry and completed studies to become a permanent deacon for the Archdiocese of Galveston-Houston.  He served both Shrine of the True Cross and St. Bernadette parishes.  His homilies carried a prophetic tone, speaking to the concerns of the poor and dignity of the marginalized.  He often invoked St. Francis of Assisi's dictate:  Preach the Gospel at all times, and if necessary, use words.
His last three years were marked by health issues which left him unable to speak.  Through his clear and fluent writing, he found new ways to minister to visitors and medical caregivers often concluding with his offering a blessing.  The Rubio family is especially indebted to Kathleen Strassel, RN, and Taanya McNeil, CNA, for their devoted care.
Deacon Joe is preceded in death by his parents, his sister Armida Yvonne Rubio, and daughter-in-law Sandra Rubio.
He will be missed dearly by wife Anne Rubio; his siblings Mara Rubio of El Paso and Ruben Rubio and wife Rebecca of San Antonio, their children and grandchildren; and his own children—Joseph Rubio and wife Sheila and their children Daniel, Mia, Paul, and Luke Rubio of Tempe, Arizona; Christopher Rubio and his son Andrew of Houston; and daughter, Terri Rubio of Los Angeles.
Services will take place Friday evening June 2, with visitation at 6 pm, and Vigil Service at 7 pm.  A Celebration of Life Mass will take place Saturday June 3, at 11 am.  All services to be held at St. Bernadette Catholic Church in Clear Lake, 15500 El Camino Real, Houston, TX 77062.
In place of flowers, for those so wishing to do so, please consider a contribution to honor our family members in church ministry who have accompanied Deacon Joe on his journey, or to a charity of your choice.
Sisters of Charity Retirement Fund
800-982-7968
Jesuit Retirement Fund
800-325-9924
http://connect.jesuitscentralsouthern.org