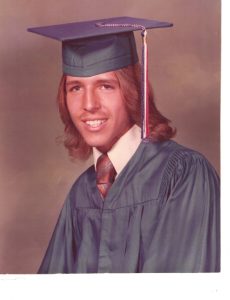 David Gregory da Silva, 62, resident of Houston, Texas, passed away after a nearly year-long battle with glioblastoma multiforme brain cancer on August 27, 2023, in League City, Texas.  He was born in Binghamton, New York, to Anibal J. da Silva and Grete da Silva on December 11, 1960.  David graduated from Clear Lake High School in 1979, a lifetime resident of Harris County, and certified as a diesel mechanic by trade – having worked for Stewart and Stevenson, Metro, and CCISD, after having served a short stint in the U.S. Navy.
He was also quite a talented and private artist in every sense of the word, no matter the medium – he could create incredible things, such as a mural of KISS he painted on his bedroom wall in the late 1970s, and wood burning/carvings and drawings, among numerous other things.  As an avid naturalist, he learned the names of numerous migrating birds he watched and photographed hummingbirds by the hundreds that he fed in his yard regularly.  He also enjoyed playing street hockey as a kid being quite a formidable goalie, and enjoyed watching pro football as well.
In his later years, he took care of his mother, and then his father until their passing, for which the family is quite appreciative.
Although David never married, nor had children, he leaves behind a large family (his brother Daniel, and sisters Ursula, Florinda, Sylvia and Gloria and their spouses and children), as well as his friends – both from high school, and throughout his career.
In his honor, David has requested a simple memorial of his own choosing, with opportunities for story-telling, to be held on September 23, 2023, at the Crowder Funeral Home, 1645 East Main Street, League City, Texas. Visitation is scheduled from 11am – 1pm CT, with a memorial service from 1-2pm CT.
In lieu of flowers, David and his brother request donations in his name to Saint Jude's Children's Hospital, the Glioblastoma Foundation, or the American Cancer Society.