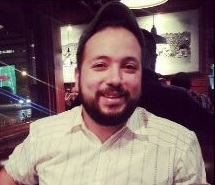 David Joseph Garcia was born on March 12, 1983 in Merriville, Indiana to Jose Garcia and Guadalupe Marquez. David has lived his past 31 years in Houston, TX. He unfortunately passed away unexpectedly on August 16, 2016 at the young age of 33.
He leaves behind to cherish his memories with brother, Daniel Garcia and his wife, Andrea Hernandez with their 3 children, Olivia, Julian and Rosalie; father, Jose Garcia, his wife, Megan Thompson of 4 years: daughter, Dakota and numerous of family and friends. David was an amazing person. He was always there for people whenever they needed him and sometimes he came across as intimidating, but he was a pretty laid back guy. He was an incredible father, husband, friend, brother and son. To say David was hardworking is an understatement; he always did whatever it took to make sure the job was done right. He was very well respected by not only his co-workers and employess, but his friends and family as well. He was a simple man to say the least; all he needed to make him happy was a good sandwich with a Cherry Coke, gummy bears or a pint of Guinness.  He was also very big into punk rock music like The Misfits, Social Distortion and Bad Religion. He knew anything and everything about the Rockets, if you weren't a Rockets fan, you were wrong. He was always making people laugh with his dry and witty sense of humor. His all-time favorite show was The Office and he also enjoyed mobster movies, his favorite was The Godfather part II. We all have different memories of David and his closest friends wanted to say a few words to give more of an idea as to who he was:
"David skidded into our lives in a giant Cadillac, looking like Elvis, and jamming The Misfits. David was unapologetically himself, but with him, you always knew where you stood. He may have had a tough outer shell, but once you could get past that, he gave his all to our friendship. He was our boss at some point in time, was hardworking and viciously loyal. He never did anything halfway with his work or his friends and family. His role as a master negotiator got us into many adventures, from harmless fun to exploring abandoned hospitals and racing trains down Hempstead. We don't get to choose the family we're born into, but he chose us to be a part of his family, just as we chose him. We miss and love our brother desperately."
David was loved by friends and family and will be greatly missed by all.
A viewing service to celebrate his life will be on Saturday August 27, 2016 between the hours of 5pm-8pm at the Crowder Funeral Home in Pearland.