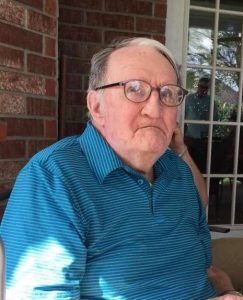 David James Hartnett III, 90, passed away peacefully on June 4, 2019 in Texas City, Texas.  He was born on April 29, 1929 to David J. Hartnett Jr. and Mary A. Muldoon Hartnett in Galveston, Texas.  He married Margaret Marie Wunsch on October 29, 1949 and they were married for 67 years until her death in 2017.
David was a graduate of Kirwin High School and worked for Carnation and Borden Dairies for many years.  He was also employed with Crowder Funeral Home for over 40 years.
He was preceded in death by his parents, wife, brothers, Joseph Hartnett and Thomas Hartnett, his sister, Margaret Hartnett, as well as his son-in-law, Michael Franger.
He is survived by his children Susan Franger of Wimberley, Texas, Kay Gage (Greg) of Texas City, Texas and Michael Hartnett (Jana) of Texas City, Texas, and his brother Ed Hartnett (Shirley) of Rockport, Texas,  his seven grandchildren, Kim Cabler (Jack), Ryan Franger (Chandel), Brian Gage (Arin), Eric Gage, Allison Whittenberg (Jay), Megan Hartnett and Michaela Hartnett and his ten great-grandchildren Olivia, Colton, Grant and Benjamin Cabler, Kendal and Reed Franger, Braedyn and Casyn Gage, Kylie and Kellen Whittenberg, as well as a large extended family.
A visitation will be on Saturday, June 8, 2019 from 1:00pm-1:45pm at the James Crowder Funeral Home in La Marque.  Funeral Service will be at 2:00pm on Saturday, June 8, 2019 at Queen of Peace Catholic Church in La Marque with Father Chacko Puthumayil officiating. A graveside service will be held at 10:00am on Monday, June 10, 2019 at Galveston Memorial Park Cemetery in Hitchcock, Texas with Deacon Joe Hensley officiating.
Pallbearers will be David Williams, Ryan Franger, Brian Gage, Eric Gage, Colton Cabler, Grant Cabler, Ben Cabler, Reed Franger and Kellen Whittenberg.  Honorary pallbearers will be John Crowder, Ron Crowder, Bim Crowder and Walt Crowder.
Special thanks to the staff of The Resort Care Center and to A-Med Hospice for the care given to David over the last year.
In lieu of flowers donations may be made to the Shriners Burn Hospital and March of Dimes.