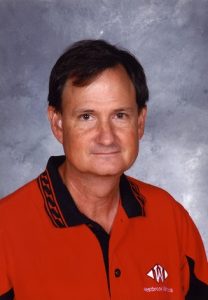 David Andrew Liggio, 65, a resident of League City, Texas, passed away on March 3, 2023.  David was born October 22, 1957, in Texas City, Texas to parents Nick Paul Liggio and Katie Ramsey Liggio.
David spent his lifetime in the Dickinson and League City area. He was a graduate of Dickinson High School, where he was a track athlete all four years, and received his degree in Kinesiology from Sam Houston State University. Following his graduation, David worked with his father and mother at their family business, Liggio's Exxon Service Station located in the heart of Dickinson. In 1987 he began his teaching and coaching career at McAdams Junior High in Dickinson Independent School District where he worked for 18 years. In 2005 David transferred to Westbrook Intermediate School in Clear Creek Independent School District where he worked 18 years and was still working at his death. Throughout his teaching and coaching career, David taught Physical Education and coached football, track, cross country, and basketball. His family and fellow coaches would tell you that David maintained a high standard for himself and his athletes and was a stickler for details that sometimes frustrated his colleagues. Lovingly referred to as "Ligg, the Legend" by his Westbrook colleagues, he prided himself on attending to all of the behind the scenes, mundane tasks that helped make practices and events run smoothly. He dearly loved his students, athletes, and colleagues and was proud of his teaching experiences in both Dickinson and Clear Creek.
David dedicated his life to his children, family and students. He had a devoted and loving relationship with his children. A simple man, he relished in spending time with family and friends over a home-cooked meal (never cooked by David), playing bocce ball or cornhole in the backyard, and sharing stories from his childhood or coaching career. He enjoyed watching all sports, especially his beloved Dallas Cowboys and his Houston Astros and was a sore loser when they lost. He loved spending time playing with his young great nieces and nephews and was affectionately referred to as Uncle Tickles by some.  He had a great and somewhat irreverent sense of humor, and loved to laugh and make others smile. His kind and humble manner, genuineness, and dependability all made him a great coach, mentor, and friend.
David was a member of the Knights of Columbus, a past member of Shrine of the True Cross Church, and a member of Clear Creek Community Church. He is preceded in death by his mother and father and his sister-in-law, Ann Liggio.
David leaves behind to cherish his memory his daughter, Madeline Renee Liggio, and fiancé, Stephen Gunnerson; his son, Nicholas Robert Liggio; his former wife, Shannon Renee Liggio; his brothers Michael Liggio and wife Debbie; Joseph Liggio; sisters Kathy Falco and husband, Matt; Diane Martin and husband John; and numerous nieces, nephews, and cousins.
In his honor, there will be a visitation on Thursday, March 9, 2023 from 5:00pm to 7:00pm At Shrine of the True Cross Catholic Church in Dickinson. A Rosary will follow at 7:00pm.  A funeral mass will be held on Friday, March 10, 2023 at 10:30am, also at Shrine of the True Cross Catholic Church. Interment will be held at Mt. Olivet Catholic Cemetery after the mass.
In lieu of flowers, the family requests that donations be made to Westbrook Intermediate Athletic Program, or to the following mental health services that work with our local students and children: The Alliance – Clear Creek, and Gulf Coast Center – Galveston County.
thealliancebayarea.org
Gulf Coast Center – Galveston County
Personal or cashier's checks payable to Gulf Coast Center, 4444 West Main St., League City TX 77573.
Donations to the Westbrook Athletic Program may be made in the form of personal or cashier's checks payable to Westbrook Intermediate School with "Coach Liggio" in the memo line.