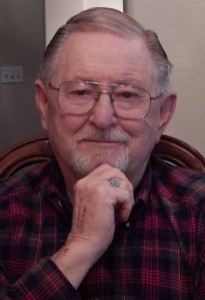 David Allen Mayo, 81, passed away on April 11, 2015 in Galveston, Texas. He was born on April 10, 1934 in Moberly, Missouri to Lyda Alice Lowry Mayo and Joe Allen Mayo.  David was raised on a farm near Mount Airy, Missouri, a place he remembered fondly his entire life. David is survived by his loving wife of 59 years, Nolie Brown Mayo, daughters Diane Krolczyk and husband Johnnie, Donna Pierpoline and her husband David, Carol Countie and her husband Greg, Kathryn Lincecum and her husband Doyle, and a son Matthew Allen Mayo. David is also survived by sisters Sharon Harlan and husband Tom, Kathy Gaines and her husband Dennie, and nine grandchildren Kyle Enriquez, Joseph Krolczyk, Michael Pierpoline, Jonathan Pierpoline, James Countie, Bradley Countie, Ryan Lincecum, Robert Lincecum, Ross Lincecum, along with many beloved nieces, nephews, and numerous other family members and friends.
When his nation called, he answered by joining the United States Air force.  David served his country from 1951 to 1953, attaining the rank of Airman First Class. He earned a B.B.A. from the University of Miami in 1969 while working and raising his growing family. David was also a Mason for fifty years.
David started his professional career with Rath Packing Company in 1956, starting as a salesman in Decatur, IL. David was soon promoted to Sales Manager and was transferred to Miami, FL, and then Memphis, TN. Rath then transferred David to Houston, TX, in 1976. In 1978, David took a position as Regional Sales Manager for Jones Dairy Farm, where he worked until he retired, overseeing the Western half of America, including Alaska and Hawaii. David truly had a passion for his work, and sales was more than just a job, for David made countless friends and enjoyed many great times during the course of his career.
David enjoyed collectibles, gardening, sports and traveling the world.  He was an active member of Clear Lake United Methodist church serving as an usher for 37 years.
A memorial will be held at 10:00 A.M. on Thursday, April 16, 2015 at Clear Lake United Methodist Church with a reception following. The viewing is scheduled for Wednesday, April 15 at 6:00 pm at Crowder Funeral home. In lieu of flowers those wishing to make a memorial donation in David's memory may do so to Clear Lake Methodist Church Building Fund, 16355  El Camino Real, Houston, TX,, 77062 or The American Heart Association.