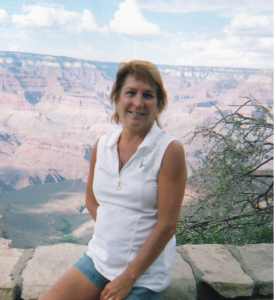 Darla Jean Robbins, age 60, passed away on Monday July 19th 2021 in Chicago, Illinois where she was working at the time.  She was born on July 22, 1960 in Canonsburg, Washington County, Pennsylvania to James and Rose (Fisher) Taper. Darla is survived by her husband, Curt L. Robbins and one 1 son, Brandon L. Robbins. Darla and Curt had one 1 son, Eric Christopher Robbins who passed away on February 14th, 2009. Darla has one 1 sister, Carla Booker and one 1 brother James (Butch) Taper. and numerous family members and friends.
She earned an Associates degree from Indiana University. Darla worked as an auditor for Tax Credit Assurance out of Tulsa, Oklahoma. She had a passion for her work, teaching & fostering children, and working in her garden. Darla enjoyed antiquing and collected vintage vaseline glass and maps. She loved to travel the countryside antique shopping.
A Viewing and Visitation will be held Wednesday, July 28th, 6 pm to 8 pm at Crowder Funeral Home, 111 E. Medical Center Blvd., Webster, TX 77598. A Funeral Mass will be held on Thursday, July 29th, at 10:30 am at St. Paul's Catholic Church, 18223 Point Lookout Dr., Houston, TX 77058.