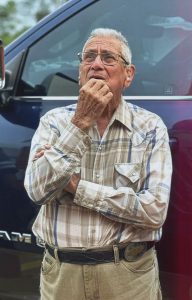 Daniel M. Martinez, 88, resident of Arcadia, Texas, passed away unexpectedly on Wednesday, September 27, 2023. He was born on January 13, 1935, in Galveston, Texas to Jonzalo Martinez and Jovita Mendoza Martinez.  
Daniel grew up in Galveston County where he met and married Eligia Martinez and raised a family consisting of 3 sons and 5 girls. He was a member of Our Lady of Lourdes Catholic Church. Daniel worked for Bay Concrete as a truck driver and in his free time he loved to "ride to eat and eat to ride". 
He was preceded in death by his wife, Eligia Martinez and sons, Marty Martinez and David Martinez.  
Daniel leaves to cherish his memory; his son, Felix Martinez and wife, Vickie, and his girls, Theresa Yohan, Henri Norrod and husband, Keith, Connie Martinez, Kathy Hankamer and husband, Rusty, Mary Martinez, Sheila Hale and husband, David, Boogie Reyna; his brother, E.J. Martinez and wife, Mary; grandchildren, Crystal Whitman, Danyelle Martinez, Jason Martinez, Michael Martinez, Amanda Adams, Dustin Yohan, Rachel Raitano, Jeremy Martinez, Jacob Martinez, Ethan Martinez, Anthony Villarreal, Cody Norrod, Elicia Martinez, Jonathan Martinez, Meshealle Gallaway, Michael Ring; and; great-grandchildren,  Joshua Martinez, Kearsteyn Whitman, Elyssa Garcia, Avery Martinez, Olivia Martinez, Maria Martinez, Emily Martinez, Ethan Martinez, Ellie Martinez, Angelina Martinez, Caleb Sanners, JuJu Raitano, John Raitano, VJ Gallaway, James Gallaway Logan Martinez, Rebecca Villarreal, Emilia McFall-Martinez, Callan Martinez,  Logan Gallaway, Aniyah Rodriguez, Josiah Ring, Oliver Ring, Noah Martinez, Elaina Martinez, Kaycee Martinez, and Phenix Swain; as well as numerous extended family and friends.  
In his honor a visitation will be held Thursday, October 5, 2023, from 8:00 – 9:30 am in the Crowder Funeral Home Chapel, Dickinson, Texas. A mass will follow on Thursday, October 5, 2023, at Our Lady of Lourdes beginning at 10:00am. Immediately following, interment at Hayes Grace Memorial Park Cemetery, Hitchcock, Texas.