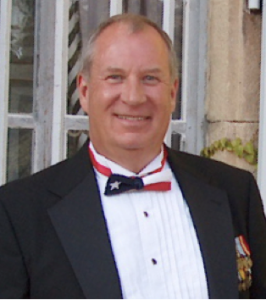 Daniel L. (Dan) Bloomer, Major U.S. Air Force (Ret.)
May 26, 1946 — October 15, 2022
Dan Bloomer, 76, died peacefully at home on Saturday, October 15, two years after being diagnosed with pulmonary fibrosis.
He was born in Dayton, Ohio, to Henry P. Bloomer Jr. and Roselyn Bellisle Bloomer. Dan's dad was career Air  Force, so he had the privilege of living in Ohio, Tennessee, Delaware, Florida, New Mexico, Texas, and France before his dad retired in Waco, TX. Dan met his future wife Linda there and both graduated from Richfield HS in Waco in 1964. He attended Texas A&M University for one year after graduation, then enlisted in the USAF, where he qualified as an aircraft mechanic on C-130 aircraft. He was stationed at Dyess AFB in Abilene, TX, for four years, during which time he managed to visit 26 different countries with his aircraft. He liked to say that he had seen airports all over the world.
In 1968 he married the love of his life and high school sweetheart, Linda Rhodes.  At the end of his enlistment he returned to Texas A&M and was a proud member of the Corps of Cadets. In 1973 he received his BBA degree and commission as a 2nd Lieutenant in the Air Force. Dan and Linda began their journey together in the Air Force at Chanute AFB, Illinois, where they were blessed with a wonderful son, Jonathan. From there they were stationed in Florida, Iceland, England, Utah, Texas, England again (this time as an exchange officer with the Royal Air Force), and New Mexico. In 1989 he retired after 22 years of service and the family returned to Austin, TX.
Dan worked as a planner on the staff of the Austin Chief of Police for three and a half years before being selected to be the civilian Chief of Operations for the Texas Air National Guard (TXANG). During his tenure he coordinated TXANG responses to many events, ranging from 9/11 to numerous hurricanes, wild fires, and several border security missions, in addition to coordinating daily operational issues with all TXANG units in the state. He remained in this position until he retired in 2012.
Dan enjoyed retirement, as he had time for a leisurely perusal of the newspaper with his morning coffee and was no longer required to get up at "0 dark thirty." He was an avid road cycler, participating in numerous rides throughout the state of Texas. His favorites included the Rosedale annual ride and the "Hotter Than Hell 100," as well as the Houston to Austin BP MS-150.
In 2016 he and Linda moved to League City to be close to their son Jon, his lovely wife Dora, and their children. Just to keep busy they built a new house and made sure there was an extra stall in the garage for Dan to build a model railroad layout. Dan was a skilled model railroader who delighted in running the trains for his great-grandkids.
Dan is preceded in death by his parents and older brother Hank. He is survived by Linda, his wife of 53 years 11 months, their son Jon and his wife Dora, two grandchildren, two great-grandchildren and numerous nieces and nephews, all dearly loved.
Dan hated funerals so the family will hold a Celebration of Life on December 10th in League City.  If you will be able to attend, please contact Linda or Jon. No flowers please. Donations may be made to the Pulmonary Fibrosis Foundation or your favorite charity.