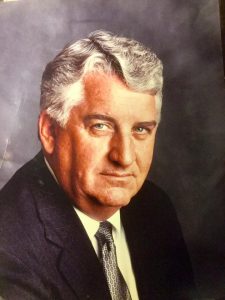 Daniel D. Mangieri, 84, passed away on November 2, 2017 in Houston, Texas.  He was born on December 19, 1932 in New York to Daniel R. Mangieri and Clementina (Ciocci) Mangieri. Dan is survived by his wife, Jolene; sons, Danny (and wife, Mae) and Mark (and wife, Jonica); daughter, Janice (and mate, Darryl); seven grandsons: Wesley, Michael, Steven, Joseph, Joel, Daniel, and Derek, as well as countless relatives and friends.
Dan had a storied 24-year career as a system integration and test engineer for NASA, making many contributions to the nation's space program. He joined NASA in 1965 at the Resident Apollo Spacecraft Office in Bethpage, New York where he was a test engineer for the Lunar Modules that landed astronauts on the moon. He often proudly told us "my fingerprints are on the moon".  In 1971, he moved to the Manned Spacecraft Center (now called the Johnson Space Center) in Houston where he went on to work on the Space Shuttle and Space Station Programs. He retired from NASA in 1989.
Dan loved traveling, photography, movies, and technology. Above all, Dan loved spending time with his wife of 62+ years, children, and grandchildren.
A memorial service will be held on the 85thanniversary of his birth, December 19, 2017 at 2pm in the Crowder Funeral Home – Webster, TX.