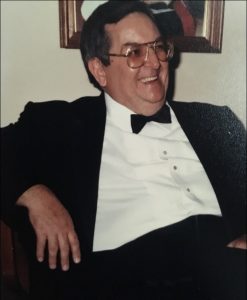 Dan Lomond Rogers, Son of Ben And Dixie, Brother to Hoover, Grandson of Sally and Will Husband to Wanda Troy, Father to Trudee, Danna, and Dixie and through his girls Father to Mike and Lee, Grandpa to Michael (James), Danny (Vangie), Jordan (Courtney), Taylor, Troye, and Erik PopPop to Paige, Peyton, Lomond, Lonnee, and a granddaughter on the way.
Son, brother, grandson, husband, father, grandpa, PopPop a truly great example of a man! A Man who worked hard to provide for his family, who loved one woman more than life itself! He was a man who taught his daughters the values of a being a good person. He was intelligent, brave, generous, funny, athletic (He never let us forget that), loving, tough but fair. Dad loved to fish with his first son-in-law Mike, was high scoring basketball player, expert bridge player, and an avid Arkansas Razorback fan. No words alone can describe Dan, Our Daddy, and Grandpa, and Pop Pop.
Best dude around! Sweetest man in the universe!
Dan Rogers was a major influence, his work ethic, his humor, his kindness and generosity. He taught us how to fish, he taught his boys how to treat a woman, he taught his girls how to be ladies and that we could do anything we wanted to do, he taught us that hard work pays off, he taught us how to be assertive and to never be intimidated.
We will all miss his beautiful face. His heartfelt stories of his youth and his family. He told us so many things about growing up on the farm in Arkansas and working his way up in the big City of Houston in the Oil business. He had a way of making us love our heritage and being proud of where we came from.
Now he is watching over us and our hope is that we make him proud and we never let his stories die!
What does the name Dan Rogers mean to us? When we close our eyes, what pictures do we see?
I see martin houses rising out of a vibrant garden, neighbored by a quaint lemon tree. I see myself wading in a cool swimming pool, and feel the warmth of the unwavering Texas sun on my shoulders. Suddenly, that warmth is displaced by a shock of cold water spraying out of a garden hose. Dan Rogers is holding the hose, spraying me and laughing. If I close my eyes and listen closely, I can still hear that laugh. That's my grandpa's laugh, as affectionate as it is mischievous.
When I think about Dan Rogers, I remember the many trips to eat
Mexican food at Mamacita's and, as a child. I remember being served warm toaster strudels for breakfast by the poolside. I remember eating spoonfuls of fig preserves, and enjoying peanut butter and honey blended together and smeared across a paper plate like paint on an artist's palette, grandpa's spécialité! And, his way of making a root beer float by scooping out the middle of a half-gallon of vanilla ice cream and filling it with root beer out in the garage.
I remember sitting under the porte-cochère for hours with my grandpa, waiting for the squirrels to swarm and invade the feeders filled with seed and suet, dangling along the nearby tree line. I remember intense Skip-Bo games at the kitchen table, grandpa shouting "Stop!" when grandma would get on too much of a roll. Trips to Froberg's Farm, NASA, and Moody Gardens glide through my memory, and grandpa's voice insisting to me that, "One of these days, I'll sit you down and teach you how to drive a nail."
During my last visit to Houston, I sat down with my grandpa and an audio recorder, and asked him questions about his life. I learned so much more than I ever knew before about Dan Rogers, and savored all of his stories as they unfolded. Spending that time with him was so special to me. His humor, compassion, and strength of character were inevitably woven into those stories, and I continue to strive toward that level of humanity every day of my life.
It's strange to say goodbye to someone who has always been there. I love Dan Rogers and will miss him deeply, and take comfort in the fact that the spirit never fades—it waxes and it wanes like the sea, and I can still feel his energy burning bright, lighting the way for all of us who he loved so much.
He was so strong, inspirational, athletic, smart and funny. Dan Lomond Rogers will always be an inspiration for how we love, live, work and laugh. He taught us that when times are tough you push through, hard work will prevail and that mares eat Oates and Doe's eat Oates, but little lambs eat ivy.
Your Loving Family
We will miss you so much, Sooieee PIG!
A memorial service will be held on Sunday, March 25, 2015 at 1:00 PM at Crowder Funeral Home – Chapel, Webster, Texas.
Those wishing to make a memorial donation in lieu of flowers in Dan's memory may do so to:  support.woundedwarriorproject.org/Donate or www.houstonspca.org