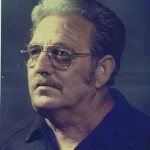 Dan Edward Graham, 77, resident of Santa Fe, Texas, previously of Texas City, passed away September 9, 2014. He was born May 1, 1937 in Waxahachie, Texas to parents, Noah Irvin and Lilly Mae Graham.
He loved spending time with his nieces and nephews. He was preceded in death by his parents, brothers, Arthur, Lenard, Irvin Jack, and Billy David Graham, and sister, Patsy Ann Bryce.
He is survived by his sisters, Rutha Nell Black and Jannie Shelton; and brother, Tommy Graham.
Graveside services will be held at 3:00 p.m. Saturday, September 13, 2014 at Grace Memorial Park Cemetery in Hitchcock, Texas.
Benny Black, Bobby Padgett, Michael Hebert, Bruce Conner, Robert Graham, and Danny Sonnier will serve as pallbearers.