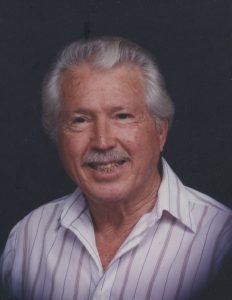 Dale O'Callaghan was born on March 28, 1929, in Arcadia, TX., the son of Sam Morris O'Callaghan and Bessie Stavely O'Callaghan. He was a member of Pine Drive Church in Dickinson and served as an usher for many years after being baptized at the age of 72. He then became a founding member of The Church of Acts in Dickinson. He worked 35 years for Union Carbide as a heavy equipment operator and leadman until retiring in 1987.
Dale is survived by his loving wife of 44 years, Sylvia Vanier O'Callaghan and seven children; Gary O'Callaghan (Karen), Sam O'Callaghan (Renee), Tanya Young (Bill), Sandra Pierce (Roger), Peggy Residori (Larry), Deborah Flores (George), and Wendy Heldt (Jim); sister Rae Maurice Johnson; twenty-five grandchildren; fifty-seven great-grandchildren and one soon-to-be, great-great-granddaughter which would have been five generations; and sister-in-law, Judy Janner and husband Charles.
He was preceded in death by his parents and brother Hartford.
Visitation will be held from 10:00 – 11:00 a.m. Saturday, May 19, 2018, at Crowder Funeral Home in Dickinson, Texas with services at 11:00 a.m. Interment will follow at Hayes Grace Memorial Park in Hitchcock, Texas.