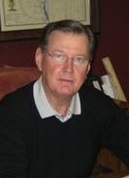 Dale L. Hardy, a long-standing resident of League City for almost 40 years, passed away October 11, 2021. He was born in Galveston, Texas to Barbara Johnson Hardy and Louis Eugene 'Tim' Hardy on October 29, 1950. He lived his early years in different places in Galveston County, but his heart was in Port Bolivar, spending time at his Grandfather Johnson's ranch riding horses and working cattle.  He graduated from Santa Fe High School in 1969 and North Texas State in 1977.  He married Mary Louise Motl in 1970 and they had two daughters, Cynthia and Carrie.   He began his professional career working for the County of Galveston.  He then worked for GTE, living in Lewisville and later San Angelo, Texas.  He moved back to the League City area in 1981 and joined Hall-Johnson Surveyors in 1982 as Party Chief.  He married his wife Suesie, who had one daughter, Heather, in 1982.  He earned his Professional Land Survey registration in January 1990, and established his private practice, Dale L. Hardy & Associates, which later incorporated as GeoSurv, LLC, in 2000.
Dale was a recognized leader in both professional and civic organizations in his community.  He was a member of the Masons, Texas Society of Professional Surveyors, the Chamber of Commerce and served on Planning Commissions and numerous committees for the City of League City.  He was elected Galveston County Surveyor in 1994 and served in that capacity until 1998.  As an active member of the League City Lions Club, Dale served as Club President, Vice President, Chairman of the 1999 Village Fair and Music Festival, and Board of Directors. He was named Lion of the Year in 1999 and named a Melvin Jones Fellow in 2001, the highest individual honor the Lions can bestow upon a member. One of his favorite things to do was cook breakfast for his family and friends and he extended that love to the monthly Lions Club Senior breakfast where he fried up bacon for many, many years.  He and Suesie volunteered together throughout the community for over 40 years and in that time, Dale touched the lives of many.  He was known for his kindness, his smile and laugh, his boots and jeans, his generous spirit, his professionalism, and his willingness to help others. He didn't just talk the talk. He was a good man, a good husband, a good father and grandpa, a good brother, and a good friend. He is gone too soon and will leave a hole in our hearts.  He will truly be missed.
Dales is preceded in death by his mother, Barbara Hardy Brister; father, Louis Eugene Hardy; and step-father, Raford Brister.
Dale leaves behind his wife Suesie, daughter Cynthia Hardy Price and husband Russ, grandchildren Elizabeth Price, Morgan Smith, Madison Smith and Mason Smith of Plano, Tx; daughter Heather Thompson and Scott Thompson, grandsons Ryan and Alex Thompson of Conroe, Tx; daughter Carrie Hardy McKee and husband Chris, grandsons Logan and Ethan McKee of Frisco, Tx.  Brothers Louis Eugene 'Tim' Hardy and wife Ann of Bryan, Tx; Barry Dean Hardy of League City, Tx; Craig William Hardy and wife June of Santa Fe, Tx; Augustus Ray Brister and wife Naihui Jian of Sugarland, Tx.; Richard Carroll Brister and wife Tamara of Pittsford, NY; sister Tracy L. Brister of Austin, Tx and Toby Miles Brister of Santa Fe, Tx, as well as many nieces, nephews and cousins.
There will be a Celebration of Life Service on Saturday, October 23rd at 2:00 p.m. with visitation beginning at 1:00 p.m. at the League City Methodist Church, 1601 W. League City Pkwy.
Burial will be Sunday, October 24th at 3:00 p.m. at the Port Bolivar Cemetery, 4077 Hwy. 87, Port Bolivar, Texas.
Those who wish may make memorials to the Lewy Body Dementia Assoc., Inc.  #912 Killian Hill Rd. SW, Lilburn, GA 30047 or the Port Bolivar Cemetery P.O. Box 9, Port Bolivar, Texas 77650.