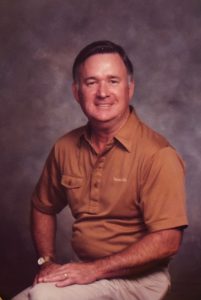 Curtis "Buck" Buchanan, 83, of Texas City passed away peacefully at home surrounded by family on Sunday, January 23, 2022 in Texas City.  He was born March 12, 1938 in Hearne, Texas to Frank and Gladys Buchanan.
Curtis was a resident of Texas City since 1946. He started working at Union Carbide in 1958 as a pipe-fitter and retired from there as Emergency Director in 1996. He served 20 years on the Board of Directors for Carbide Employees Federal Credit Union and later Associated Credit Union of Texas. He was part owner of Buchanan & Watts Camper Sales of Texas City for many years. He was also an active member of First Baptist Church Texas City for over 60 years.
Curtis's first loves were his wife and family. He was on the first little league baseball team, Carbide Pirates, formed in Texas City in 1949, and his love for baseball continued throughout his life. His love for golf began as a young caddie at the Texas City golf course on Bay Street and evolved into him being an avid golfer for most of his life. He was known as "The Singer Man" for his love and talent for restoring antique sewing machines. Curtis had a gift for building and repairing that had no end. In his later years, he and Wanda enjoyed growing and sharing plumerias with others.
Curtis was preceded in death by his parents, sisters: Mavis Delaune, Juanita Miles and Betty Ruth Wingate, and brothers: Harold Buchanan, John Buchanan and Lewis Buchanan. Curtis is survived by his wife of 63 years, Wanda Buchanan, daughters: Gail Gerky (Joe) and Melisa Harvey (Randy), brother, Robert Buchanan (Elizabeth), grandchildren: Brook Gerky (Lisa), Meridith Wade (Will), Madison Gerky (Wil), Morgan Gerky (Chris), Erin Sharpe (Matthew), Shannon Tidwell (Cody) and Rachel Harvey, and great-grandchildren: Makayla, Kenley, Connor, Brayton and coming soon great-granddaughter, Lyla.
The family would like to send love and deep gratitude to the Hospice Care Team of Texas City, especially Robert, Gwen, Kelly and Renee, for the amazing care and support they provided Curtis and Wanda.
A Memorial Visitation will be on Saturday, February 5, 2022 from 12Noon – 2:00pm at the James Crowder Funeral Home, La Marque.  Memorial Service will be follow at 2:00pm with Pastor Dennis Johns officiating.
In lieu of flowers, donations may be sent to Hospice Care Team, Inc. or First Baptist Church Texas City.