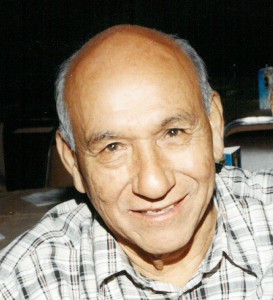 Cruz Coronado Martinez, 80 of Texas City passed away on June 1, 2015 in Webster, Texas. He was born October 25, 1934 to Manuel and Monica Martinez, Sr. in Richmond, Texas.
He worked for the Texas City Terminal Railway for 35 years. He enjoyed fishing, long rides down the dike, sports, family feud and summer vacations to the Rio Grande Valley.
He was a member of St. Mary of the Miraculous Medal Catholic Church and dedicated himself to his daughters.
He is preceded in death by parents. He is survived by his faithful and loving wife of 55 years, Mary "Nena" Martinez, two daughters Yolanda (Londa) Marie Gonzales and Veronica(Ronnie)Lynn Martinez, son Daniel Edward Martinez and one granddaughter, Madison Lissette Gonzales all from Texas City; three sisters Rosenda Ramirez, Tommie Sepulveda, Olivia Astorga, numerous nieces, nephews and his three dogs CJ, Dottie and Cody.
He was the best Dad and Grandpa anyone could ask for and always lived life to the max. He will be greatly missed never forgotten.
Pallbearers will be Richard Cavazos, Daniel Martinez, Joshua Martinez, James Miranda, Andy Arrevelo, Bobby Martinez, Jesus Delfino and Sergio Valdez. Honorary Pallbearers are John Ortiz, Hector Fornue, Edward Gonzales and Byron Hollis.
Visitation will be held on Thursday, June 4, 2015 from 5:00pm – 8:00pm with a Vigil at 7:00pm at the James Crowder Funeral Home in La Marque. A Funeral Service will be at 2:00pm on Friday, June 5, 2015 at the James Crowder Funeral Home with Deacon Joe Hensley officiating. Burial will follow at Mt. Olivet Catholic Cemetery in Dickinson, Texas.