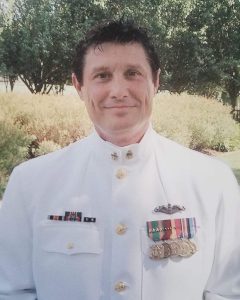 It is with great sadness that we announce the passing of Craig Preuit, a 58-year-old Navy Sailor who served honorably as a Chief Petty Officer E7 in the Gulf War and other conflicts over his 20-year career in the Navy. Craig was a devoted husband, father, son, brother, uncle, and friend to many.
Born on October 2, 1964, in Houston, Texas, Craig grew up with his parents Rodney and Sandra and his sisters Lori, Amy, Emily, and Karen. He was preceded in death by his grandparents Rodney L. Preuit Sr. & Esther Preuit and Robert Wyche and Christine Wyche (Mema); Uncles: William "Bill" Hausinger Jr. and Richard Hughlett.
Craig was a dedicated Navy Sailor who served his country with honor and courage. He spent most of his career on nuclear submarines and was proud of that achievement. Craig's bravery and commitment to his fellow sailors and countrymen was second to none.
Craig was a valiant Navy sailor who fought a seven-year battle with Amyotrophic Lateral Sclerosis (ALS), also known as Lou Gehrig's disease. Despite the challenges he faced, he remained a true hero until the end. His unwavering spirit, determination and strength inspired those around him, and his bravery and dedication to his family and country while he fought his last great battle will never be forgotten. 
Craig is survived by his wife of 15 years, Marie Reyna Preuit, whom he met in 1987 and reconnected with in November of 2007, and married 8 months later, on July 19, 2008. He is also survived by his daughter Carli Elia Preuit, his stepsons Chris Estrello, Josh Smardo, and Mitch Smardo, and their wives Lea Estrello, Stephanie Smardo, and Abbey Kowis, respectively. He is also survived by his step-grandchildren Angel Cervantes, Kylie Estrello, and Olivia Estrello, and his step-grandson Luke Smardo. Craig has 10 nieces and nephews and 12 great-nieces and nephews.
Craig will be deeply missed by his family and friends. He was a kind, generous and witty man who put others before himself. He loved the wind in his hair on his motorcycle and had a passion and talent for carpentry and building custom pieces of furniture. Craig's legacy will live on through the memories he made, the heirloom furniture he created, and those who knew and loved him.
Graveside military honors ceremony for Craig will be held at: Houston National Cemetery, located at: 10410 Veterans Memorial Dr, Houston, TX 77038, on August 3rd, 2023 at 10:30am. Please arrive no later than 10:15am.