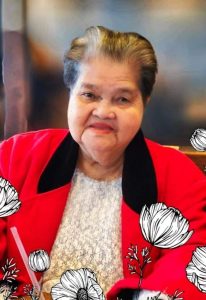 Corazon Diente, 88, a resident of Manvel, TX passed away December 27, 2022 in Houston, TX. She was born on January 30, 1934 in the Philippines. Corazon attended Sacred Heart Catholic Church in Manvel, TX.
She reunites with her husband Conrado Diente; son, Randy Diente; parents, Cayetano and Antonia Barcillo; sisters: Dolores Ballonado, and Teresita Sedoripa;
brothers: Rogelio Barcillo, and Ernesto Barcillo.
Corazon leaves behind her daughter Sheila Diente-Cruz, husband Roberto; grandchildren: Ross Cruz and Samantha Cruz; sister, Elvira Maglalang.
Visitation will be held on Thursday, December 29, 2022 from 6p.m. to 8 p.m. with a vigil at 7p.m. at Crowder Funeral Home in Pearland. Friends will be accepted Friday, December 30, 2022 at 1 p.m. with a service to begin at 2p.m. in the chapel of Crowder Funeral Home in Pearland.