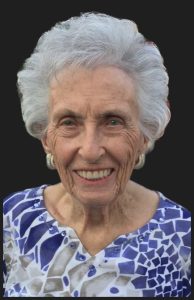 Cora Elizabeth Kistler passed away peacefully on Friday, December 23, 2022. She was born on March 5, 1927, in Charleston, West Virginia to William John Rowland and Amelia Smith. Cora is survived by her daughter Linda Hurley (husband Joe) of League City, Texas and Larry Kistler (wife Tracie) of Mt. Juliet, Tennessee, six grandchildren and four great grandchildren. Cora was predeceased by her husband, Harold, and her youngest daughter, Laura who passed in October of 2022.
Cora graduated from Stonewall Jackson High School in May 1945 in Charleston, West Virginia and went to work for the telephone company.  On January 22, 1949, she married the love of her life, Harold, at Trinity Lutheran Church in Charleston. They lived in Charleston until 1968, moved then to Charlotte, North Carolina and from there to Houston, Texas in 1972 where they made a good life raising their children and attending House of Prayer Lutheran Church and then Gloria Dei Lutheran Church in Nassau Bay. They were married 65 years until Harold passed away from Parkinson's Disease in 2014.
Cora was not one to sit around and was always busy doing something – she worked at the NASA Space Center in the cafeteria and for Brown and Root. She was an effortless volunteer and worked for many years for the Interfaith Caring Ministry Resale Shop helping them with their fundraising efforts with the Festival of Trees and also volunteering every day sorting donations and helping run the resale shop with her daughter Laura who worked there and also managed the shop at one time. She was even featured in a newspaper article describing her enthusiastic efforts for volunteering and taking care of her husband Harold during his bleakest days with his Parkinson's illness.
Still having energy to spare, at the age of 83 Cora found the need to paint her bedroom antique white (the only color Harold and Cora thought existed) but said she wouldn't go above the second rung of the ladder! After Harold passed away, she moved into the Brookdale Retirement Facility on Bay Area Boulevard and made many friends and loved living there. Cora was also an excellent cook and her cookies and Chex Mix at Christmas were always requested and enjoyed by many.  Not only did Cora make the best cookies, but according to Linda and Larry she made the best mac & cheese ever. Cora with her children in mind, often made extra mac & cheese so they could take some home after their family get togethers.
Cora will be remembered on January 5, 2023, at Crowder Funeral Home on Medical Center Blvd., Webster, Texas with visitation from 6-7pm and the service following at 7pm. Donations in memory of Cora may be made to Gloria Dei Lutheran Church Endowment Fund at 18220 Upper Bay Road in Houston, Texas 77058 and also to Interfaith Caring Ministries at 151 Park Avenue, League City, Texas 77573.