Concepcion (Concha) Gonzales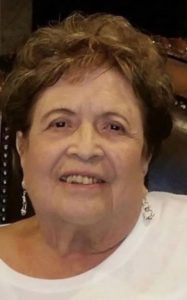 Concepcion (Concha) Gonzales, 94 passed away at her home in Santa Fe surrounded by her family on June 11, 2021.  She was born in Salamanca, Guanajuato, Mexico on November 24, 1926 to Guillermo and Carmen Rivera. She came to the US for a visit and met the love of her life, Reuben Gonzales.  They soon married on August 2, 1958.  They established their home in La Marque and she resided there for 60 years. From their union, they had four children Virginia, Reuben, Joe, and Henry. She loved her adopted country and soon became a US citizen.
She was a homemaker and devoted mother.  When she was not busy with taking care of her kids and husband, she loved sewing, crocheting, and singing.  Many family and friends reaped the benefits of being gifted beautiful colorful afghans and being serenaded on their birthday with Las Mananitas. She was also devoted to her faith and made several pilgrimages to the Basilica of Our Lady of Guadalupe in Mexico City.  She was a member of Queen of Peace Catholic Church and one of the founding members of the Our Lady of Guadalupe Society.
Mrs. Gonzales was predeceased by her husband of 43 years, Reuben, Sr., her Son Henry Gonzales, her parents Guillermo and Carmen Rivera and siblings, Lupe, Pancho, Jesus, Rafael, Socorro (Coco), Guillermo (Memo), Carmen (Piche), Lucita and Claudio.
She is survived by her daughter Virginia Gonzales of Santa Fe, sons Reuben Gonzales, Jr. of La Marque and Joseph Gonzales (Bob Watson) of Houston. Grandchildren Hanna Abraham (Josh) of Friendswood and Perry Gonzales of Santa Fe, and Great-grandson, Jaryn Wilson.
A visitation will be held on Wednesday, June 16, 2021 from 5pm to 8pm at James Crowder Funeral home in La Marque, TX.  There will a rosary at 6pm.  A funeral mass will be held at 10:00am on Thursday, June 17, 2021 at Queen of Peace Catholic Church in La Marque, TX followed by a burial at Mt Olivet Cemetery in Dickinson.
Pallbearers will be Perry Gonzales, Brian Muir, Shawn Muir, Larry Alexander, Barry Alexander, Jesse Bolen.  Honorary pallbearers will be Hanna Abraham, Jaryn Wilson, Tom Muir, Gilbert Muir and Joe (Pepe) Dominguez.
The family would like to thank our mom's caregivers who saw her through her final years and days Lauri Canales, Linda Magledano, Linda and Rose Gonzales as well as Amed Hospice.