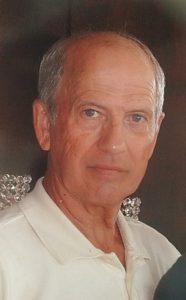 COLLIN HUGH CLEMENT, AN HONORABLE AND WONDERFUL MAN, HUSBAND,
FATHER, GRANDFATHER, BROTHER AND FRIEND HAS LEFT TO BE WITH THE LORD AT
THE AGE OF 74, ON WEDNESDAY, MAY 23, 2018 AT HIS CLEAR LAKE AREA HOME.
COLLIN WAS BORN 2 MILES SOUTH WEST OF BRAGG CITY, MISSOURI ON APRIL 26, 1944
TO PROUD PARENTS ROY ROBERT CLEMENT AND ICIE EVELYNN CLEMENT.
COLLIN AND HIS PHIL CAMPBELL, ALABAMA.
A GRADUATE OF HALEYVILLE HIGH SCHOOL 1962, OBTAINED HIS BACHELOR OF ARTS
FROM THE UNIVERSITY OF ALABAMA ON MAY 31, 1970.
COLLIN, JOINED THE AIR FORCE FROM 1970 – 1990 AND BECAME LIEUTENANT COLONEL
AND PROUDLY EARNED THE FOLLOWING MEDALS AND RIBBONS; AIR MEDAL,
MEDITORIOUS SERVICE MEDAL, NATIONAL DEFENSE SERVICE MEDAL, AIR FORCE
LONGEVITY RIBBON, TEXAS MEDAL OF MERIT, TEXAS FAITHFUL SERVICE AND
ADJUSTANT GENERAL AWARD. HIS UNIT OF SERVICE WERE 919 THE AIR REFULING
SQUADRON, STRATEGIC AIR COMMAND, 117 THE TACTICAL FIGHTER WING, 147 THE
FIGHTER INTERCEPTOR WING. COLLIN SERVED IN ALABAMA, SOUTH CAROLINA, GEORGIA, CALIFORNIA, THAILAND, PANAMA CANAL, AND ELLINGTON FIELD.
HE IS SURVIVED BY HIS LOVING WIFE OF 56 YEARS, FREIDA JEAN CLEMENT, HIS SON
COLLIN HUGH CLEMENT, JR. AND WIFE YULIYA, DAUGHTER ANGELA RENA CLEMENT,
GRANDCHILD ALEXI CLEMENT AND SISTER AVA JEAN MIZE.
COLLIN WAS A LOVING AND CARING HUSBAND, FATHER, GRANDFATHER, BROTHER
AND AN AMAZING FRIEND TO OTHERS. ANYONE THAT KNEW HIM WOULD AGREE THAT
HE WAS SURELY ONE OF A KIND, DISCIPLINED, ORGANIZED, BRILLIANT PERSONALLITY,
INTELLIGENT, FUN, GREAT STORY TELLER, A WISE MAN, ALWAYS WILLING TO SHARE HIS
WISDOM AND KNOWLEDGE WITH OTHERS.
BOTH COLLIN AND FREIDA MADE FRIENDS EVERYWHERE THEY WENT. THEY WELCOMED
AND ADOPTED EVERYONE THEY COULD INTO THEIR BEAUTIFUL FAMILY AND MADE A
DIFFERENCE IN THEIR LIVES, HE WAS ALSO KNOWN AS PAW PAW. FAMILY WAS A PRIORITY TO HIM. HE WILL SURELY BE MISSED AND ALWAYS BE IN OUR HEARTS AND IN OUR BEST MEMORIES. WE LOVE YOU PAW PAW!
IN HIS HONOR, AN 11AM SERVICE WILL BE HELD ON SATURDAY, JUNE 2, 2018 AT
CLEAR LAKE CHRISTIAN SCHOOL
14325 CRESCENT LANDING
HOUSTON, TX 77062
In lieu of flowers donations can be made to the Nassau Bay Animal Shelter in Collins name.