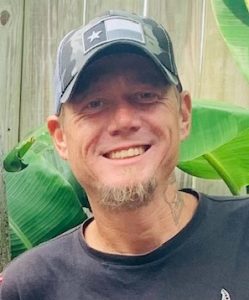 Cody Thomas Clark was born on September 22, 1980 in Grand Prairie, Texas. Cody was the son of Debbie and Dan Amerson and Tom and Amy Clark. He always said the best thing he ever did was bring 4 beautiful girls into this world – Kayla, Brianna, Peyton, and Alexis.
To remember Cody is to know that he loved his travels across America. From the West Coast to the East Coast, Cody traveled this nation. He especially enjoyed the mountains of Colorado, the desert of New Mexico, the quaint little towns in rural America, and the city of Tucson, Arizona. The stories of all the different people that he met along the way brought him such great joy in his heart.
To remember Cody is to hear his great laugh that would fill the room, to know his passion for the Dallas Cowboys, and his loud singing along with Hank Williams, Sr. His knowledge and intellect allowed him to talk about a vast array of so many subjects. And how he loved to get in the kitchen and cook!
Cody is survived by his parents – Debbie & Dan Amerson and Tom & Amy Clark, his daughters – Kayla, Brianna, Peyton, and Alexis, his brothers and sisters – Casey and Ralph Kliza, Lanie and John Doherty, Douglas and Denise Amerson, Kelsey Marie Clark, Kinsey Lee Clark, and wonderful nieces, nephews, and many cousins.  Cody is preceded in death by his brother, Kyle. The brothers were born 13 months apart and died 13 months apart.