Clyde Eugene Frost, 63, of Santa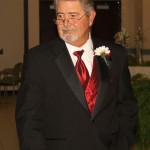 Fe, TX, passed away September 3, 2014 in Webster, TX. Clyde was born October 9, 1950 to Edward and Helen Frost in Texas City. He retired from BNSF Railway as the most tenured engineer after 41 years of service. He also was very active in the community with the LaMarque Lion's Club. Clyde was preceded in death by his father.
He is survived by his mother Helen Frost; sons, Tyson Frost and wife, Kristin, Jeremy Frost and his wife, Niki, and Dustin Frost and his wife Kendra Turner; daughters, Donna Oliver, and Brett Frost; step- daughter Keala Speakes and her husband William; sisters Sue Robinson and Ann Peterson and her husband, Pete; brother Barry Frost; and eight grandchildren.
Visitation in his honor will be held, Saturday, September 6, 2014, 10:00 to 11:00 a.m., with services at 11:00 am, Crowder Funeral Home Chapel, League City, TX.