Cledith Marie Harmon (Sistrunk)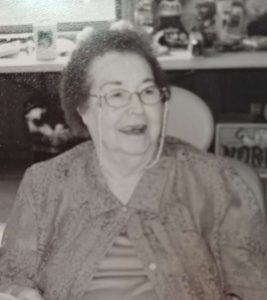 Cledith Marie Harmon (Sistrunk)
May 1, 1931 ~ July 9, 2019
Cledith died peacefully surrounded by her family on Tuesday, July 9, 2019.  She was 88 years old.
She was preceded in death by her parents, 2 brothers, 3 sisters and a great grandchild.  She leaves behind her husband of 50 years Lawerence  (Bubba) Harmon, 3 daughters Kay Bryant, Fay Richardson, Pamela Stafford ( Steve), 1 son Travis Shipley (Paula) 12 grandchildren, 31 great grandchildren, 7 great-great grandchildren, sister-in-law Sprank Harmon, brother-in-law Floyd Harmon (Margie) and many nieces and nephews she loved very much.
Cledith was a member of Northside Baptist Church in Texas City.
A visitation will be on Friday, July 12, 2019 from 5:00pm – 8:00pm at the Crowder Funeral Home in La Marque.  Funeral Service will be held at 2:00pm Saturday, July 13, 2019 at the Crowder Funeral Home with Rev. Clay Bowers officiating. Burial will be at a later date.
In lieu of flowers the family is requesting donations be sent to Juvenile Diabetes Foundation in her name.