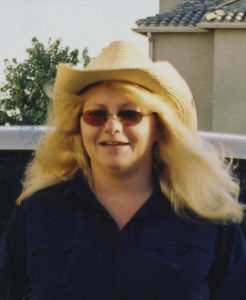 Cindy Lou Hughes, of Webster, Texas died Friday, April 21 @ 9:17 pm.
She is survived by her husband Dwight, daughters,  Jacey Cowling, and Kayde Cowling. She has two sisters living, Katerina Kearns, husband Rusty, Dorenda Adams, husband Charlie, as well as numerous nephews and nieces.
Cindy was born Cindy Lou Dail in Goldsboro, N.C. September 20, 1968, to Rubert E. Dail and Betty J. Dail.
Her funeral will be held at Crowder Funeral Home in Dickinson, Texas on Wednesday, April 26,  2017, visitation to start at 2:00 with service at 3:00 pm .
She was a member of Sagemont Church where she sang in the choir.
Cindy was an animal lover all her life and loved to ride her horses. She loved spending time with her family and was always the life of the party. She will be greatly missed and forever in our hearts. See you in Heaven "Baby Girl".