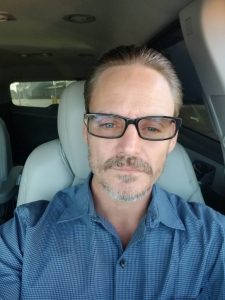 Christopher Lee Russell, 42, of Dickinson, Texas passed away suddenly on Saturday, July 6, 2019.  Christopher was born November 13, 1976 to Grady Longbotham and Peggy Russell in Galveston, Texas.  Christopher served his country in the U S Navy, he was a proud member of the III Percenters, and worked in construction. In his free time, he loved the outdoors, he was an avid camper, hunter, and fisher.  He had a special affinity for water and the beach.
Christopher was preceded in death by his mother.
He leaves behind to cherish his memory his Fiancé, Catherine Cumpston and her daughters Kristen Taylor Cumpston, Leeann Paige Cumpston, and Isabel Naomi Cumpston; his father Grady Longbotham; step-mother, Teresa Longbotham; sisters, Elizabeth "Hurricane Marie" Schlotter, and Mary Longbotham Jabben; step-sister Sara Burke; brothers Harold Lee Russell, and Christopher Douglas Hardwick; aunt Lillie Pell; uncle, William LaFour; niece Shelly Ann Trevino; and nephew John Jacob Engle.
The family will be receiving friends and loved ones 5:00 – 8:00 PM, Friday, July 12, 2019, at Crowder Funeral Home Chapel, Dickinson, Texas.