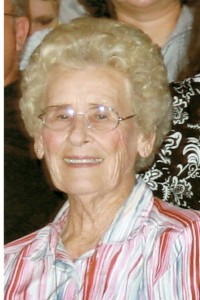 Charlotte Wentzel, 93, passed away April 5, 2016. She was born September 9, 1922 in Milano, Texas to parents Walter and Mary Etta Yoakum. She was a member of the church of Christ in Dickinson, Texas. Charlotte, a 65-year resident of Alta Loma, was previously employed as a cafeteria worker and bus driver for the Santa Fe Independent School District.
She was preceded in death by her husband Albert G. Wentzel Sr., infant daughter, Mary Sharon Wentzel, grandsons, Jacob A. Wentzel and Erik Steinmetz, sisters and brothers, Ivy Darden, Flossie Bethard, Fannie Stephenson, Faye Delle Hargrove, Allie Butler, Giles Yoakum, Georgie Diver, John Yoakum, Kate Bird, and sister-in-law, Margaret Wentzel Carroll.
She is survived by her daughter, Margaret Williams and husband Larry; son, A.G. Wentzel, Jr. and wife Deb; grandsons, Jason Williams and Matthew Wentzel; granddaughter, Rachel Strait; and eight great-grand grandchildren, Emily Steinmetz, Anna Steinmetz, Katelyn Strait, Kourtni Strait, Andrew Williams, Sofia Williams, Kylie Wentzel, and Addison Wentzel.
Visitation will be held from 6 p.m. to 8 p.m. Thursday, April 7, 2016 at Crowder Funeral Home in Dickinson. Graveside services will be held at 4 p.m. Friday, April 8, 2016 with David Osteen officiating at Grace Memorial Park Cemetery in Hitchcock, Texas.