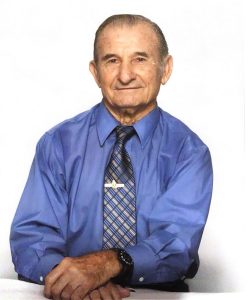 Charlie Raymond Janca, 91, of League City, passed away on Sunday, February 20th, 2022.
Charlie was born December 10, 1930 in Francitas, Texas to Oscar and Mary Janca. He grew up in Ganado, Texas and at the age of 17 joined the Army. Charlie served from 1948-1952 and obtained the rank of Sergeant. He often spoke about his time in Germany and Alaska. Charlie returned home to Texas and in 1957 he began his career with Entex gas company and on December 21, 1957 married Wynethia Elva-Dean Graham in El Campo, Texas.
The Janca's made their home in Victoria, Texas and after enduring Hurricane Carla, moved to Texas City, Texas in 1962. Charlie continued to work for Entex and Dean was a homemaker and raised their two children, Ron and Christy until she passed away in 1985.
Charlie retired from Entex in 1995 after over 35 years of service and eventually moved to League City, Texas to be closer to his children and grandchildren.
Survivors include his daughter, Christy Galyean and husband Jeff of Norman, Oklahoma; daughter in law, Mary Anne Janca of League City; grandson, Phillip O'Toole of Dallas; granddaughters, Peyton Galyean of Norman, Oklahoma, Elizabeth Janca of Houston and Rachel Janca of League City; brother Marvin Janca of Rosenberg, sisters Georgia Boothe of Edna, and Lillian Little of Baytown.
He is preceded in death by his parents, his wife Wynethia Elva-Dean Janca; son, Ronald Janca; brothers Louis, Laddie and Jerry Janca; sisters Pat Morgan and Angie Rowe.
Charlie will be remembered by family and friends for playing the guitar, telling jokes, and never forgetting dates of events such as birthdays.
Visitation will on Saturday February 26,2022 from 11am till 1:00pm at Crowder funeral home, 1645 East Main Street, League City, Texas 77573 with interment to follow the visitation at Forest Park East Cemetery in Webster, Texas.
Everyone is invited to Red River BBQ after the graveside service to mingle, visit and reminisce.