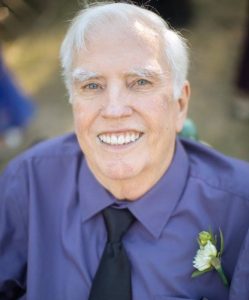 Charles Waine Stoddard, 79, passed away unexpectedly on Monday, February 13, 2017, following a difficult recovery from a broken ankle. He was born on January 6, 1938 in Henderson, Pennsylvania.
He was a kind and gentle man leaving behind his wife of 57 years, Ronda (Porter) Stoddard; three daughters, Di Anna Adair and Husband Wes, Debbie Stoddard, Darilyn Peddie and Husband John; grandchildren; Paige and Jake Ricketts, Alexandra Gaston, Bryce Adair and Thomas Gaston; Sister-in-Law's Frankie Thurston, La Donna Porter and Marge Stoddard and Brother-in-Law Mike Hartman and many nieces, nephews and close friends.  Local family members include Margo and Erik Volkmer, and their children Lane and Dalton Volkmer.
Born and raised in Pennsylvania, he was the son of William Harry and Clarabelle Stoddard (Conway). In 1955, at the age of 17, he moved to Roswell, NM to join the Air Force and worked at Walker Air Force Base as a mechanic on B-52 Bombers.  He was honorably discharged from the United States Air Force on May 2, 1963.
He met his wife, Ronda Porter, on a blind date in 1956 and they were married in June 1959 at First Baptist Church in Artesia, NM. In 1960, he joined American Telephone and Telegraph (AT&T) as an electronics technician and retired from AT&T in 1994.  And moved to Houston in 1995 to be closer to his children and grandchildren.
We will be celebrating his life with a memorial service at 2 p.m. on Saturday, February 18th at Crowder Funeral Home in Webster, Texas