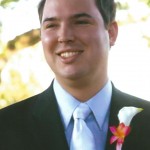 Charles Robert Cummer, of Taylor Lake Village, affectionately known as Rob, passed away suddenly on Sunday, Sept 21, 2014. Rob was born on Dec. 19, 1981 in Webster, TX.   He was the only son of Bob Cummer and Kathy McElman (Cummer.) Rob married the love of his life, Mikella Monroe, after a brief delay following Hurricane Ike in 2008.
Rob was a graduate of Clear Lake High School and attended the University of Houston Clear Lake.
He is preceded in death by his maternal grandparents Charles and, Kathleen McElman of Boston, MA and His paternal Grandmother Clarlyn Cummer of Kansas City, MO.
He is survived by his paternal grandfather Robert Cummer of Colorado Springs Colorado, Aunts Carolyn and husband John, Barbara and husband Randy, cousins Kristen Fauson and Ryan Bergers , Debbie and husband Dennis, cousin Bobby Booth and Aunt Catherin and cousins Katie and Erin.
On his maternal side he is survived by his Uncle Chuck of Weymouth, Ma, Aunt Joey, Uncle Joe and cousin Sean of Hardwick Vermont. And cousin Brian and wife Linda of Colchester, Vermont.
He is also survived by his wife, Mikella and her family; Father-in-law Mike Monroe and wife Molly, Sister-in-law Michelle Fruge and husband Jamey, their children Garrett Adkins and Kaitlyn Fruge, and Sister-in-law Melinda Brock and husband Allen.
Rob was a bright articulate young man who had a passion for cooking. He would travel with his own knives and would most often bring his own ingredients to ensure that dinner would measure up to his exacting standards.
Rob began a career driving a delivery truck for a local welding supply company and throughout the years, through his hard work and ingenuity, he moved quickly through the ranks to the position of Area Sales Manager.
As a child Rob traveled extensively, including a sea voyage from San Diego to Juneau AL when he was 6 months old. He spent many a fun summer in Annapolis and New England. He enjoyed hunting and camping trips with his Dad. As an adult, he and Mikella enjoyed cruising in the Caribbean and most recently the Mediterranean traveling from Venice to Barcelona. They looked forward to many more such travel adventures.
The Family will receive friends on Friday, October 3, 2014 from 5-8:00pm at Crowder Funeral Home, 1645 East Main Street, League City, Texas 77573. A Celebration of Life Ceremony will follow on Saturday at 11am at Crowder Funeral Home in League City, Texas.
In lieu of flowers donations to S.A.V.E. Rescue Coalition at www.saverescue.org or the American Heart Association at www.heart.org is suggested.