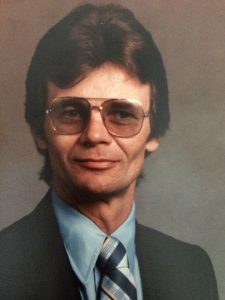 Charles Richard Medlin was born August 13, 1945 in Alberta, Canada where he was  adopted by Wilfred and Elizabeth Watson.  Shortly after adopting his sister Florence Seaton, the family moved to Venezuela, South America.  When he was in his mid-teens, he moved by himself to California where he met his second set of adoptive parents, Charles and Rosemary Medlin.  At the age of 21, he officially changed his name to Charles Richard Medlin.  He met the love of his life, Margie, in a small truck stop in Miles City, Montana during the mid 70's.  Chuck taught Margie how to drive an 18-wheeler truck and together they worked side by side traveling the continuous 48 states delivering cargo loads of all shapes and sizes.  Chuck married Margie in Webster, Texas 10 years later where they have lived ever since.
Chuck worked as an over the road trucker for over 50 years.  He even owned his own trucks for a short time in the mid 80's.  Eventually he decided he wanted to spend more time at home, so he accepted a position on a local route with Roadway and retired completely in the early 2000's.
When Chuck was at home on his days off and even into his retirement years, he enjoyed working on his latest home improvement project, tinkering with one of his "sewing machine tractors" in the garage or traveling with his wife.
He is survived by his wife of over 40 years, Margie, His mother Rosemary Medlin and his sister Florence Seaton and husband David Seaton.  Also his daughters Tracy Robinson and Shonda Montgomery. Granddaughters Brittany Carson, Katy Mitchell, One grand son, Alan Mitchell  and One Great-grandson, Kasen Mitchell and many nieces and nephews.